Join A Worldwide Ban Against Animal Testing For Cosmetics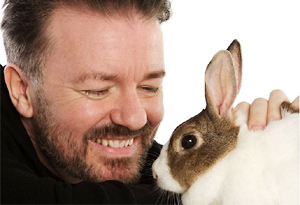 Cruelty Free International, founded by the BUAV, was launched in March 2012 with the support of Ricky Gervais. It is the only global organisation dedicated to ending the use of animals in cosmetics testing. There is currently no worldwide ban and over 80% of the world still allows animals to be used in these cruel experiments.
In February 2003, the EU agreed a Europe-wide ban on cosmetics animal testing. The first stage of the ban came into effect in 2009 and the last stage (sale and marketing ban of new animal tested cosmetics) is due to come into effect in 2013. But already delays of several years are threatened.
Without the full implementation of the EU ban no European country is free of animal tested products. Cosmetics labelling laws are such that companies can make misleading 'not tested' claims on packs, which usually only relate to testing of the final product and not, crucially, to the ingredients.
There are no restrictions on animal testing for cosmetics in many parts of the world such as the USA and Asia. The sale of animal-tested ingredients used in cosmetics and household products is scheduled to be banned in Israel in 2015.
Global Pledge
Cruelty Free International has launched a global pledge calling for a worldwide ban on animal testing for cosmetics. This is the largest and most ambitious campaign ever to seek a global ban! The pledge, which was launched last week will, over the coming weeks, roll out in The Body Shop stores in 65 countries.
Their message, 'Tell the World to go Cruelty-Free', was taken to the streets of London in an eye-catching pledge-mobile, urging shoppers to sign a pledge.
Caroline Lucas MP for Brighton Pavilion, and Henry Smith MP for Crawley were the first UK politicians to support the Cruelty Free International campaign by signing our pledge. Caroline Lucas says: "I'm delighted to be the first MP to sign the Cruelty Free International pledge and call on Governments around the world to ban the testing of cosmetics on animals. I know many of my constituents will want to join me in signing the pledge and support Cruelty Free International in their campaign to end this cruel and unnecessary practise."
Please join this organisation as they call upon governments around the world for a ban on animal testing for cosmetics!
If you love animals and want to put an end to this pointless cruelty, please support Cruelty Free International.