Lavender Essential Oil Proven Effective Against Migraines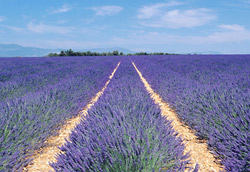 Lavender essential oil (Lavandula angustifolia) is often stated in aromatherapy books to be helpful in relieving the pain and symptoms of headaches and migraines. And although aromatherapists know only too well how effective lavender essential oil can be with migraines, there has been little clinical evidence to support this therapeutic claim. Until now, that is.

The Department of Neurology at the Mashhad University of Medical Sciences in Iran recently ran a placebo-controlled clinical trial to test the efficacy of lavender essential oil against migraine headaches. The results of this trial are very encouraging for the world of aromatherapy, and this data will hopefully encourage further clinical trials on the same subject.
However, it would be so much more helpful to our cause if future research investigates and authenticates the specific variety of plant that was used to produce the essential oil used in the trials. Most lavender essential oil is extracted from the species Lavandula angustifolia however, there are many varieties of this species grown specifically for the production of lavender essential oil.
The natural chemistry of oils from these different varieties shows a wide range of variation, so it's important to know precisely which one was used to produce the results in clinical trials.
Here are the results of the research.
***************************************************
Abstract
Lavender essential oil has been used as an anxiolytic drug, a mood stabilizer, a sedative, spasmolytic, antihypertensive, antimicrobial, analgesic agent as well as a wound healing accelerator. We have studied for the first time the efficacy of lavender essential oil inhalation for the treatment of migraine in a placebo-controlled clinical trial.
Methods
Forty-seven patients with definite diagnosis of migraine headache were divided into cases and controls. Cases inhaled lavender essential oil for 15 minutes, whereas the control group used liquid paraffin for the same time period. Patients were asked to record their headache severity and associated symptoms in 30 minutes intervals for a total of 2 hours. We matched the two groups for key confounding factors.
Results
The mean reduction of headache severity in cases was 3.6 ± 2.8 based on Visual Analogue Scale score. The reduction was 1.6 ± 1.6 in controls. This difference between the controls and cases was statistically significant with p < 0.0001. From 129 headache attacks in cases, 92 responded entirely or partially to lavender. In the control group, 32 out of 68 recorded headache attacks responded to placebo. The percentage of responders was significantly higher in the lavender group than the placebo group (p = 0.001).
Conclusion
The present study suggests that inhalation of lavender essential oil may be an effective and safe treatment modality in acute management of migraine headaches.
Research Copyright © 2012 Sasannejad P, Saeedi M, Shoeibi A, Gorji A, Abbasi M, Foroughipour M. Article; S. Karger AG, Basel.
Copyright © Quinessence Aromatherapy Ltd 2012. Written by Geoff Lyth