Lavender & Shea Butter Soap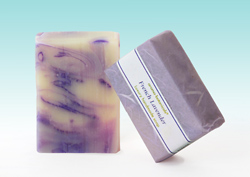 This month sees the launch of the latest addition to our Aroma-botanicals natural personal care range, and of course as always, this new item has been designed to care for your precious skin the natural way.
As you probably already know, African shea butter is renowned as one of the finest natural botanicals for conditioning the skin due to its amazing protective, nourishing and moisturizing qualities. What better ingredient could there be to include in a natural cleansing bar to condition your skin? There is no other, we decided!
So we've enriched our ever-popular Lavender Soap with shea butter to bring you a truly luxurious, rich and creamy cleanser with skin-soothing and moisturising properties. To ensure you enjoy the best possible fragrant cleansing experience, this all-natural soap contains our finest organic French lavender essential oil which soothes and calms dry, flaky or sensitive skin.
This special combination of natural botanical ingredients produces a luxurious creamy lather with a silky texture that will pamper your skin, soothe your senses, and leave you with a gentle aura of exquisite lavender fragrance.
To ensure freshness, Quinessence soaps are hand-crafted in small batches, hand cut, and allowed to cure for over 8 weeks to produce a hard, long-lasting cleansing bar. Finally, each block of soap is individually wrapped to prevent the loss of precious essential oil aroma and moisturising properties.
Browse Quinessence Lavender Aromatherapy Soap
Copyright © Quinessence Aromatherapy Ltd 2012.