Natural Beauty – More Women Are Turning To Chemical-free Cosmetics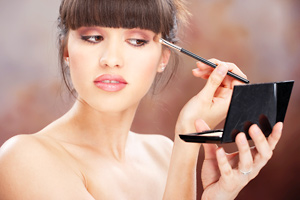 India Cox knows what it's like to have bad skin. "Six years ago I was having a lot of breakouts," she said.
Trips to a dermatologist and experiments with chemically based cosmetic products didn't work.
"There would be adverse effects," she said. "My skin would be more sensitive to the sun, so I would burn easier. Or my skin would become very dry and irritated because the products were too aggressive."
When Cox, a makeup artist at Natural Body salon, began using Mineral Veil, a cornstarch-based finishing powder, and other mineral foundation products from Bare Escentuals makeup, she said she started to see a difference in her complexion. "I feel like they've really changed the way my skin looks and feels. It's given me a lot of confidence."
Indeed, more women are turning away from chemically based cosmetics and towards natural skin care. "Most makeup has chemicals and assorted nonorganic ingredients to create the effects wanted," said Rhonda Shackelford Castleberry, senior instructor of cosmetology at Chattanooga State Community College.
"Unfortunately, sometimes these aren't the best for your skin, and some people even find that they are allergic to the ingredients in regular cosmetics. When the ingredients are natural and organic, you are basically getting the purest of ingredients to apply to your skin," she said.
Megan Pruett, a makeup artist at Sephora, a perfume and cosmetics store at Hamilton Place, said interest in organic cosmetics and skin products is increasing. "There is a health surge going on nationwide," she said. "People are paying more attention to what they put into [and onto] their bodies."
Sephora carries numerous lines of organic cosmetics, including Ole Henriksen, Josie Maran, Boscia, Tarte, Pacifica, Bare Escentuals and Skyn Iceland, she said, noting that the companies are committed to making products with fewer or no chemicals. Instead, natural products are used, Pruett said. Essential oils replace parabens; olives, coconuts or sugar beets are substitutes for sulfates; jojoba, avocado, shea and coconut butter are used instead of petrochemicals; and tree oil is used as a replacement for triclosan, according to the skin care website sephora.com.
In some cases, ingredients are synthetically created, Pruett said. "Natural brands are not just limited to skin care," she said. "We have natural brands within makeup, hair care and fragrance." Organic products may cost more than its standard counterparts, she said. For example, Bare Minerals, which is the featured brand at Natural Body, sells its SPF foundation powder for $25. A starter kit containing two foundations, bronzer, Mineral Veil, primer and three brushes retails for $60.
"Consumers need to know that natural products require a great deal to create. The cost can some times fluctuate depending upon the availability of ingredients," Pruett said. "Also, it is important for consumers to keep in mind the expiration (date) of natural products. However, if a product is used as directed and consistently, it is expected that you will finish the product before it expires."
The United States Department of Agriculture has not created rules regarding organic/natural cosmetic products, according to the Center for Environmental Health. The organization recently checked dozens of personal-care products labeled organic sold by national retailers. Several of the products contained potentially toxic ingredients, according to the government.
"For years, organic advocates have called on personal-care companies to fix their improper organic labels, but our recent purchasing shows the industry is still rife with unsubstantiated organic claims," Michael Green, director of the Center for Environmental Health, said in a news release.
California passed a law in 2003 that outlines rules for labeling of organic personal-care products, including cosmetics and skin-care products. Products labeled organic on the front must contain at least 70 percent organic ingredients. Products with less than 70 percent organic ingredients may use the term organic only on the ingredient list.
"You must read all labels to be sure there are no hidden chemicals in products that are marketed as organic. Unfortunately, this happens occasionally," Castleberry said. "You'll find that with organic cosmetics, you can enjoy great looks without worrying about what you're putting on your skin," she said. "There will be fewer outbreaks simply because your makeup won't be clogging your pores like before and the natural ingredients will help your skin stay healthy and glowing."
Article source © Holly Leber & Karen Nazor Hill