Simple Tips For Beautiful Skin – The Natural Way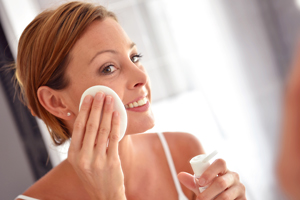 No matter what your age, it is never too late to start looking after your skin – all you need is a regular regime and a little persistence.
Of course, wrinkles are an inevitable part of getting older, but there are a few steps you can take to stay looking young as long as possible. And it can be done in an easy, natural way too.
The following simple tips will only take you a few minutes each day and when used together with a skincare range containing safe and effective botanical extracts you'll soon see visible improvements. As with all things in life, the secret to getting good results is found by persistently sticking to your plan.
General tips
Keeping a healthy lifestyle is actually one of the best things you can do for your skin. It starts with diet and nutrition as this is what fuels your body and provides nutrients to make the natural oils and collagen for your skin. Fruits and vegetables are especially good for your body and skin because they contain fibre and antioxidants. Eat more healthy oils like olive oil and whole grains to provide nutrition without excess calories.
Avoid using common soap since it is too harsh for the face and will disturb the skins pH balance allowing moisture to escape more quickly. Using the right type of cleanser should thoroughly cleanse without stripping the skin of its natural pH balance. Remember that you will need to cleanse, tone and moisturise your skin to improve its condition and protect it against environmental aggressors.
Before applying any skincare products always cleanse to remove makeup and unclog the pores. Active ingredients penetrate better when skin is still moist, so don't over-dry your skin after washing or cleansing – simply pat lightly with a towel. Don't use excessively hot water to wash or rinse skin, since really hot water can accelerate skin ageing.
Look for hand-made aromatherapy soaps filled with natural organic oils and botanical ingredients to cleanse, moisturise and nourish your precious skin. Most commercial bar soaps are not really soap at all – they are detergents! They also contain petroleum derived ingredients, formaldehydes and tallow – which is animal fat! Using bar soaps like these will do more damage to your face than by leaving the make-up on overnight.
Cleansing Routine
Apply your cleanser on to the fingertips and gently rub them together to warm it slightly. Massage onto the face using light upwards movements, taking care not to rub or stretch your skin. Choose a gentle cleanser containing natural botanical cleansing agents rather than one with harsh chemicals. In case you didn't know, you can cleanse your skin with an aromatherapy carrier oil for a totally natural way to look after your skin. See our article on the best 5 natural skin cleansing oils.
Toning
To remove the final traces of makeup and condition your skin, follow cleansing by soaking two cotton wool pads with your toner or hyrosol, and using both hands use upward and outward movements over the face and neck avoiding the eye area. Quinessence Rose Otto Hydrosol is ideal for this purpose since it is entirely natural and will hydrate and maintain the natural pH balance of the skin.
Day Time Protection
Lock in vital moisture with a quality cream or lotion that also offers nourishing and protective botanicals such as ginseng or comfrey. Apply the moisturiser to your finger tips, gently rub together to warm the product up slightly, then apply to the face and neck in upward and outward movements, avoiding the eye area.
Eye Zone
The skin around the eye area requires very gentle treatment, so never apply heavy creams to this delicate area since they can stretch the skin causing puffiness, wrinkles and even skin ageing. A light gel is perfect for around the eyes, and Quinessence Aloe Vera & Seaweed Gel also contains organic lavender essential oil to hydrate, refresh and protect your skin. Its cooling and soothing action is also ideal for red, irritated skin, or after over-exposure to the sun.
Exfoliation
While most people know about cleaning, moisturizing and even sunscreen, exfoliation is an overlooked regimen in home skin care routines. Exfoliation is the skin's natural process of removing dead skin cells to reveal the healthy, glowing fresh skin cells beneath. The exterior skin cells become dry, scaly and non-functional as they die off. As we age, the process of exfoliation actually begins to slow down, and by the time we reach the ripe old age of 25 that regeneration process has doubled in time and what once took 30 days now takes up to 60.
So the new skin cells that were revealed after 30 days when we were in our 20's now takes 60 days to work up to the surface, making our faces appear duller and dryer and sometimes older than our age. To combat this, be sure to exfoliate once or twice a week as this is a quick and effective way of removing dead skin cells. It leaves the skin soft and radiant, and enhances the absorption of your treatments. The best time to exfoliate is in the evening before applying your night-time skin treatment.
After your cleansing routine warm up a small amount of exfoliator on finger pads and apply to the face and neck using light circular movements. Make sure you avoid the delicate eye area. Rinse off with warm water and either follow with a mask or finish off with your chosen toner.
Mask
Face masks have been used by women for centuries to either hydrate, soothe, tighten pores or remove excess oil from the skin. Throughout history peoples from different parts of the world tried different natural ingredients to create their masks. For instance, people in Egypt used mud and clay while Europeans used milk and raw egg to make masks.
Masks are easy to apply, but for the very best results be sure to exfoliate your skin first. Then apply an even layer of your mask to the face and neck, again avoiding the eye area. Seaweed helps to deep-cleanse, re-mineralise and purify skin, so look for a mask containing this precious treasure of the sea. Leave the mask on for 5 – 10 minutes and rinse off warm water, finishing with your toner.
Night Treatment
Overnight treatments are especially beneficial since as you sleep, your skin is replenished and renewed. Choose a night cream containing natural, proven cell-renewing ingredients such as vitamin E, sandalwood, frankincense, rose or neroli essential oil. In the Natural Health & Beauty Awards 2007, Quinessence Vitamin E Cream fought off stiff competition to scoop the 'Highly Commended' award in the category of 'Best Moisturiser'. Packed full of natural botanicals such as aloe vera, the unique formulation of this natural skincare cream also works to rejuvenate and improve elasticity, leaving skin soft and supple.
Apply in upward and outward movements to the face and neck area, avoiding the eye zones. Don't forget the neck and décolleté area since like your hands they can reveal your age! And remember; it really is never too late to start caring for your skin – just use a regular regime and make it into a lifetime habit.