Top Tips For Spot-Free Skin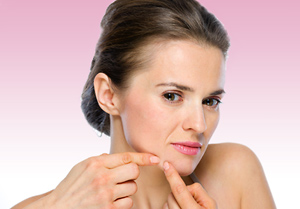 Many of us automatically associate spots with teenagers, but the truth is that they can strike at any age and some people never grow out of suffering from them.
We all want clear, soft, luminous skin, but staving off spots can be actually much harder than it sounds.
As with most things, keeping it simple is often the most effective method when aspiring to have beautiful, unblemished, spot-free skin. Here are a few of our top tips for enjoying a clear, glowing complexion – the totally natural way.
Keep it natural
While skin care products have a role to play, some will clog the pores, dry skin out, or clash with other products you are using. By sticking to water and a mild, organic face wash, your skin is much more likely to achieve a natural, healthy balance. Natural aromatherapy soaps with pure essential oils are ideal for gently cleansing the skin.
Never underestimate the importance of exfoliating. In fact it's recommended that you exfoliate the skin twice a week to get rid of dead cells that block the pores. Exfoliating helps to encourage cell renewal too, meaning you're a step closer to spot-free, radiant skin.
Always wash off makeup
It might have been said hundreds of times, but if you don't thoroughly wash makeup off at the end of the day, your skin will pay the price. Makeup clogs pores and can lead to either dry or oily skin, depending on your skin type.
Be sure to wipe makeup off, paying special attention to the perimeter of the face and the neck, where makeup often gets left. Ideally you should finish off with a natural toner to close the pores and firm up the skin. Quinessence Rose Otto Hydrosol containing pure rose oil is perfect for this, and because rose is gentle yet antiseptic on the skin, it is also ideal for promoting spot-free skin.
A hydrosol is the condensate water that is left over after the process of extracting an essential oil by water or steam distillation. This aromatic water contains the very essence of everything that was contained within the plant when it was still alive and growing, and rose is one of the very finest natural botanicals for use in skin care. It soothes, softens and hydrates the skin whilst bringing a tonic and toning action that helps to strengthen the collagen-elastin network. This network is what keeps your skin soft, supple, radiant and young-looking.
Treat spots as they emerge
When you notice spots emerging, it's important to treat them straight away. Essential oils are effective for reducing inflammation and fighting the bacteria that causes spots. Some of the most effective essential oils for treating spots are tea tree, lemon, niaouli, lavender, and lemon eucalyptus essential oil, also known as eucalyptus citriodora.
Add five drops (in total) of your chosen essential oil to 10ml of carrier oil and dip a cotton bud in the mixture. Apply to the spot using a dabbing motion. It's important not to apply the blended essential oil to the area more than twice in any 12 hour period. This will prevent you from irritating your skin if it is already sore from the spots.
If you prefer, you can add 3 drops of essential oil to 10mls of cream or lotion, and apply as you would normally do for skin care. An effective blend is 1 drop of tea tree, 1 drop of lavender, and 1 drop of niaouli essential oils in a cream or lotion base. Used as part of your regular skin care routine, these essential oils will help you maintain spot-free skin. If your skin is inflamed and sore from spots, replace the lavender with roman chamomile essential oil.
Get your diet in order
It's a cliche but it's true, you are what you eat. If you're diet is high in sugar, bad fats, alcohol and processed foods, it's going to show on your skin.
To have the clear, spot-free skin you've always dreamed of, be sure to have a balanced food plan of fruit, vegetables, meat and carbohydrates. Consider trying a smoothie made from green vegetables, including celery, cucumber, parsley, spinach and kale. Add in some apple or apple juice as a sweetener and enjoy.
You should also stay hydrated by drinking around two litres of water each day, which is around eight, eight-ounce glasses. I know it sounds like a lot of water to drink, but your skin will love you for it! Also, drinking a cup of hot water with a slice of lemon is a great way to help purify your body.
Copyright © Quinessence Aromatherapy Ltd 2014. Written by Sue Charles