Orange, Cardamon & Shea Butter Soap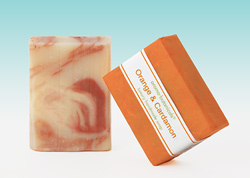 Hot on the heels of last month's new hand-made Lavender and Shea Butter Soap, we are delighted to introduce another classic combination to our Aroma-botanicals personal care range. Our natural soap is fragranced with Orange and Cardamon essential oils, and infused with creamy Shea Butter to care for your precious skin – the natural way.

This special combination of natural botanical ingredients produces a luxurious creamy lather with a silky texture that will pamper your skin, energize and invigorate your senses, and leave you feeling fresh all over.
Shea butter is extracted from the crushed nuts of the African shea tree (Butyrospermum parkii), which grows wild in Africa from the north of Senegal to the north of Uganda. Since ancient times, shea butter has been used by women in tropical countries as a beauty treatment due to its incredible skin-softening, moisturising and anti-aging qualities.
Orange and cardamon essential oils contain natural anti-bacterial and deodorising properties as well as a stimulating action which make this hand-made bar-soap perfect for your morning shower. The wonderful fresh and zesty fragrance also means that this a cleansing bar your man will love too!
To ensure freshness, Quinessence soaps are hand-crafted in small batches, hand cut, and allowed to cure for over 8 weeks to produce a hard, long-lasting cleansing bar. Finally, each block of soap is individually wrapped to prevent the loss of precious essential oil aroma and moisturising properties.
Browse Quinessence Orange, Cardamon & Shea Butter Soap