Top Tips For Beautiful Eyes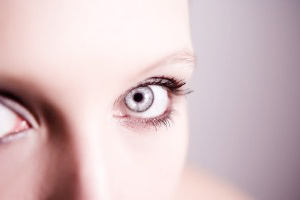 Our eyes are one of the most powerful tools we have in our beauty arsenal.
We use them to convey our feelings, engender trust in others and attract the opposite sex.
They're also the vehicles through which we view the outside world.
Consequently, it's natural for us to want our eyes to wow everyone at all times, and natural essential oils can help them to be their most beautiful in a few easy steps.
Roman Chamomile Oil and Aloe Vera for getting rid of dark circles
Dark circles are a common problem. They happen when the blood vessels around the eyes – known as capillaries – leak red blood cells into the surrounding tissue. This is a perfectly normal occurrence and is nothing to worry about. However, when the body releases a special enzyme to break-down and absorb these cells, a dark bluish-black residue is left behind due to the components in haemoglobin, a component in blood.
It's believed your genetics affect how prone to dark circles you are, and if you overdo it with late nights and alcohol you're at a greater risk of developing permanent dark circles. The problem with this is that these dark shadows can often make you look older than you are. Sometimes, much older.
Luckily there are natural ways to combat these marks. One method is by using pure and natural Roman Chamomile Hydrosol. Hydrosols are the floral waters created whilst steam distilling plant materials to obtain essential oils. They contain minute quantities of ready-diluted essential oils and so are very, very safe around the eyes.
To apply Roman Chamomile hydrosol, soak two cotton pads in the solution and place one over each closed eye. Leave for about five minutes then rinse off the residue. Do this regularly to help get rid of those unwanted dark shadows.
Aloe Vera is another effective product to help get rid of dark circles, as it stimulates micro-circulation, rehydrates, and nourishes skin. Try an Aloe Vera Gel and rub a small amount under the eyes and under the eyebrow. Be sure to cleanse and dry the skin first.
Frankincense to combat crows feet
Crow's feet are a common problem that can make some people very self-conscious about their eyes. These type of wrinkles occur as we age and while they can't be reversed entirely once they occur, you can at least reduce their appearance.
There are several essential oils that can help to soften fine lines around the etes, known as crows feet. Neroli, rose frankincense and lavender essential oils are all ideal for this job. If you find the cost of neroli or rose oil a bit restrictive, frankincense essential oil is  one of the most economical solutions to make your own anti-wrinkle treatment.
Add four drops of frankincense oil to 30ml of Aloe Vera Gel Base, or an unfragranced professional base cream or lotion, then dab gently around the eye socket. You should apply twice daily for the best results -and take care to not to get too close to your eyes since gels can 'creep' further on the skin.
If you are nervous about making your own products and prefer your products ready made, Quinessence Aloe Vera and Lavender Gel is the perfect solution. Using the same unique formaula as our proffesional aloe vera gel base, this soothing and nourishing gel also contains organic lavender essential oil plus seaweed extract. Seaweed protects against the UV radiation that leads to premature skin aging, helps to stimulate both blood and lymph circulation, and provides a rich harvest of nutrients that replenishes, revitalizes and firms the skin.
Apart from the aloe vera plant, there are very few species of natural plant life we know of today that can compete with seaweed for providing such an abundance of health-giving and beautifying properties. That's why we combine the beautifying properties of aloe vera, seaweed and organic lavender essential oil together to provide a supercharged, natural skin care product.
Before starting any sort of beauty treatments – especially around the eyes – you should thoroughly cleanse and then dry your face first, since this helps increase the absorption of essential oils and other phyto-nutrients.
Copyright © Quinessence Aromatherapy Ltd 2013. Written by Sue Charles