Walking Your Way To Health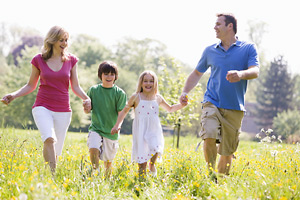 While the good weather lasts, many people want to get outside more to enjoy the sunshine whilst cycling, hiking or perhaps taking long walks with family or friends.
Walking outdoors is such a joy, and apart from being your body's most natural form of exercise it is also safe, simple, and best of all it costs you absolutely nothing.
Research has shown that walking can reduce the risk of numerous serious conditions such as heart attacks, strokes, hip fractures and even glaucoma. Medical studies conducted in 2005 discovered that walking builds aerobic fitness at both moderate and high intensity, and a 20 year Nurse's Health Study found significant decreases in breast cancer and Type II diabetes in women who engaged in 'brisk' walking.
Walking is a form of exercise that can be taken up by anyone regardless of age or physical condition, providing you start off sensibly and build up your stamina slowly like all forms of exercise you are not used to doing. Physical activity does not need to be strenuous for you to reap significant health benefits, and just walking for about 30 minutes a day will produce measurable benefits even among those who are the least active.
The benefits of walking
The health benefits of walking are vast, and simply by altering your routine and walking 30 minutes or more every day helps to;-
Lower low-density lipoprotein (LDL) cholesterol ('bad' cholesterol)
Raise high-density lipoprotein (HDL) cholesterol ('good' cholesterol)
Lower your blood pressure
Reduce your risk of heart disease
Reduce your risk of, or helps manage type 2 diabetes
Manage your weight
Increase energy levels
Strengthen bones
Reduce stress
Improve your mood
Increase overall fitness
Even without embarking on long walks there are numerous ways you can increase the amount you walk during your daily routine without too much trouble. Just consider when and where you could walk instead of driving or taking the bus, and climb the stairs instead of using elevators. Not only will you feel and look better after being on your new regime for a while, but research shows that walkers live longer too!
Stepping out
Nothing beats walking with a friend in the great outdoors, and being closer to nature whilst exercising is much more fun than just working-out in the gym, don't you think? To gain the best results you just need to walk at a moderate pace without over-exerting yourself. This means that while you are walking you should be able to hold a conversation without getting breathless, and your temperature should rise a little, but you shouldn't be sweating to the extreme.
If you don't exercise on a regular basis you should start off with no more than a 10 minute walk and this can then be gradually increased to walking 3 times a day for 10 minutes or twice a day for 15 minutes at a time. Although improvements in aerobic fitness have been noted in those who walk with high intensity (speed), similar benefits of aerobic fitness have also been seen in those who walk at only moderate intensity, but do it regularly.
Foot and leg massage
Whether you just take a modest stroll around the countryside or embark upon a really serious trek, you will be sure to benefit from a soothing and refreshing aromatherapy massage when you return home. Massaging the legs and feet with the correct essential oils after walking can prevent any stiffness and aching the next day.
Essential oils of peppermint, spearmint, rosemary and eucalyptus are perfect in a warm footbath to revive and refresh your tired feet after a long walk. If your legs and feet are aching, blend soothing essential oils such as lavender, Roman chamomile or sweet marjoram into a massage oil or lotion to bring some quick relief.
For a really refreshing treat add one drop of peppermint, eucalyptus and rosemary essential oils to a Base Carrier Lotion and enjoy a divine, cooling and refreshing foot rub that leaves them fresh and tingly, and not at all greasy or oily. Gently massage the soles of the feet in a small, circular motion to bring them back to life, or better still, get your partner to do it for you! If they are not too enthusiastic about the idea at first, just swap massages – believe me, they will soon be back for more!
The soles of your feet are well supplied with nerve endings and reflex points which relate to various organs and systems of the body, and using this knowledge this is known as reflexology. A gentle massage in this area not only soothes your aching feet, but it also improves the function of certain glands and internal organs thereby benefiting the entire body.
Sweet relief
Cooling hydrosols can also bring sweet relief to over-heated, tired, and aching feet. It's hard to beat the refreshing and toning feel of Peppermint, Rosemary or Eucalyptus Hydrosol when sprayed onto your sorry soles. Having said that, in my opinion luxurious Rose Hydrosol is my favourite simply because it smells so beautiful!
And finally, remember that tea tree essential oil makes an excellent foot-care treatment because it is a powerful antiseptic, and when used regularly it will keep your feet hygienically clean and healthy. Blended with cypress essential oil it is particularly good for those who suffer from sweaty feet, or if you have athlete's foot, use the tea tree in a lotion on its own for a more potent therapeutic action.
Simply add 40 drops (in total) of your essential oils to 100mls of hypoallergenic Lotion Base and massage the feet, paying particular attention to working the lotion into the skin between the toes.
Copyright © Quinessence Aromatherapy Ltd 2015. Written by Sue Charles