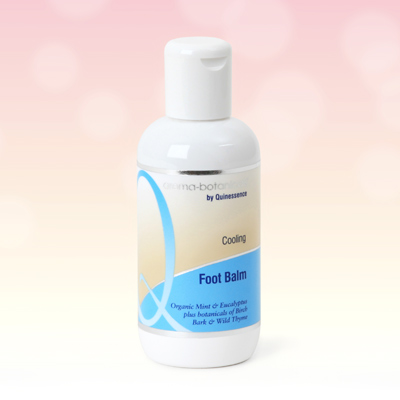 Cooling Foot Balm
Organic Peppermint, Eucalyptus, Black Pepper and Lavender. When you've been on the go all day and your feet are hot and tired, this cooling and soothing Foot Balm is just the thing to bring them a little TLC. The reviving blend of organic Peppermint, Spearmint and Eucalyptus will rapidly cool and soothe them whilst the Black Pepper and Lavender works to ease away any aching in no time at all.
To help soften dry, hard skin, this luxuriant lotion has been enriched with Cocoa Butter which is one of nature's richest moisturizers to leave skin feeling soft and supple. Other active botanicals include Birch Bark which has antibacterial and soothing properties, and Wild Thyme which is one of nature's finest antiseptics. All of these phytonutrients are ideally suited to natural foot-care products.
Buy with confidence – 30 Day Money-back Guarantee
Not tested on animals – learn more
Aqua, Prunus Amygdalus Dulcis, Caprylic/Capric Triglyceride, Polysorbate 60, Aloe Barbadensis, Ethylhexyl Palmitate, Cetearyl Alcohol, Glycerin, Sorbitan Stearate, Cocos Nucifera, Aleurites Moluccana, Theobroma Cacao, Alcohol Denat Carbomer, Eucalyptus Globulus, Piper Nigrum, Mentha Piperita, Lavandula Angustifolia, Mentha Spicata, Disodium EDTA, Styrax Benzoin, Camellia Sinensis, Betula Alba, Potentilla Erecta, Thymus Serpyllum, Vaccinium Myrtillus, Gluconolactone, Sodium Benzoate, Calcium Gluconate.