Aromatherapy Rescue For Dry, Sanitizer-Damaged Hands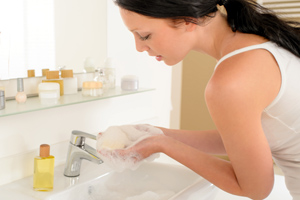 The United Kingdom entered its first official lockdown on March 26th 2020, and since that fateful date most people have been vigilantly sanitizing their hands several times throughout the day ever since.
That is a serious amount of hand-washing by any measure!
While we all know this practice is a highly effective way to prevent the spread of Covid-19, the aggressive action of repeatedly using hand-sanitizers can wreak havoc on hands. The drying effects of the alcohol contained in them causes irritation which quickly leads to soreness.
And it doesn't end there. Irritated skin is vulnerable to becoming extremely dry and cracked, which then opens us up to the risk of infection from invading bacteria. If you have sensitive, damaged or fragile skin you'll know exactly what I'm talking about, but for those who already suffer from severe dry skin conditions such as eczema or psoriasis then this becomes a very serious problem indeed.
The science bit
The repetitive use of hand sanitizers and hand washing actually strips the proteins from the top layer of the skin (epidermis) and compromises the skins natural protection barrier, thereby increasing the risk of infection. This skin barrier is largely made up of lipids, oils and ceramides, so repetitively washing removes some of that protective oil from the skin barrier.
Once the epidermis has been damaged by this disruption it has difficulty retaining the moisture that is so important for preserving your once-beautiful hands. If left untreated, all this washing will leave you with hands that look like they belong to your great-grandmother!
Given that hand sanitation is a very important part of controlling the spread of infection, what can we do to protect our hands from premature aging? Keeping the skin well moisturised and avoiding irritants is the key according to expert dermatologists, and aromatherapy products are absolutely perfect for this.
All that's needed are the best moisturising aromatherapy carrier oils plus a few healing and soothing essential oils to revive and rejuvenate your dry, sore overwashed hands in just a few days of treatments.
Carrier oils for overwashed-hands
Aromatherapy carrier oils such as sweet almond, apricot, coconut, macadamia, moringa and peach are all quickly absorbed into the skin and will quickly rejuvenate your dried-out digits while softening and moisturising them.
Calendula oil is traditionally used for dry, chapped, sore skin, so this is an ideal choice for the after-effects of aggressive hand sanitisers. You only need apply a very small amount of oil after every time you wash your hands.
To supplement your hand repair efforts, try an intensive over-night aromatherapy treatment. Before going to bed, massage your hands with a highly skin-nutritious carrier oil such as borage, evening primrose, coconut, jojoba, moringa, or macadamia.
You only need to use very small amount of these oils while working in gentle circular massage movements to make sure that all of it is absorbed into your skin. The oils will then work their magic overnight while you sleep, so by the morning your hands should feel softer and moisturised.
All of these aromatherapy carrier oils will help to repair the damage and moisturise your skin, but for serious cases of over-washing argan oil is hard to beat since its rich, complex and unique chemical composition deeply nourishes and softens skin while helping protect against the damaging effects of all that hand sanitising still yet to come.
How to do a hand massage
When applying your chosen carrier oils you can increase the results by giving your hands a thorough massage treatment to increase the blood supply. Use small circular movements with your fingertips over the back of your hands and right up to your finger joints, front and back. This action stimulates the circulation in your hands and forces a fresh supply of oxygenated blood to help speed up the healing process.
Be sure to massage the back of your hands using your thumbs working all the way up to your wrists. After this treatment your hands will feel refreshed and revitalised with the increased blood flow, and the oils will keep working to soften your skin and encourage radiance and vitality. Be sure to massage over your nails and cuticles as well to help prevent splits and breaks.
Intensive 'over-sanitized' hand treatment
For a truly intensive treatment regime, choose one or more of the essential oil recipes from the side panel on the right. It's fine to swap your choice of oils around every few days since all of these essential oils are soothing and healing. The combination of moisturising carrier oils with the healing and rejuvenating properties of the essential oils can work miracles on dry, cracked and sore skin.
To get the very best results you should include an intensive aromatherapy hand treatment at least once every day to help put back what all the sanitizer washing is taking out of your hands. Also, be sure to apply your regular hand cream or lotion after every session of handwashing to help keep your hands moisturised and protected. Remember that every time you wash your hands you are removing the previous application of of hydrating lotion or cream treatment you applied.
Of course, moisturising your hands before going to bed should already be a part of your regular hand-care routine. If you aren't already doing this, then you should from now on! Remember to gently massage your hands until all of the oil or cream has been absorbed. If you follow this simple routine religiously you will soon see the successful recovery of your over-washed hands.
Copyright © Quinessence Aromatherapy Ltd 2021. Written by Sue Charles