Aromatherapy Skin Care Tips For Summer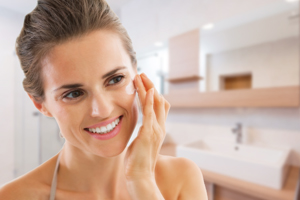 Regular readers already know that I am a great believer in taking a 'seasonal' approach to caring for your skin.
For example, while skin is more prone to the effects of biting winds and driving rain during the early spring months, a combination of excess oiliness and sun-baked dryness is usually the kind of problem experienced during the summer season.
And even more importantly, you must ensure your skin is kept properly hydrated throughout the hot summer weather to prevent premature skin aging and wrinkles. Aromatherapy carrier oils and essential oils provide a wide range of highly effective treatments to help to protect and hydrate your skin and keep those wrinkles at bay. The synergistic combination of emollient carrier oils and rejuvenating essential oils is precisely what your skin needs to care for your skin throughout the summer weather.
Back to basics
To have truly great skin there are a few other important things to think about as well, so let's start with those. The basic fundamentals for great skin are a balanced diet, and a regular skin care regime. To enjoy a good complexion you must enjoy good health, so a healthy diet is absolutely crucial, and you don't need me to remind you about eating fresh fruit and vegetables, cutting down on caffeine, and drinking more water.
A daily home skin care regimen is also vital for healthy, unblemished skin, and an effective and regular skin care regime should include the following steps; cleanse, exfoliate, mask, tone and finally moisturise. You should exfoliate once, perhaps twice a week – but no more. Be sure to use a gentle facial grade exfoliator and do not apply it too vigorously.
Clay masks have been used for centuries and help to draw out impurities and excess oil from the skin, leaving it feeling revitalised. Using a clay mask just once a week will dramatically improve the condition of your skin because it not only deep cleanses but also stimulates blood circulation and cell renewal. Start a regular home skin care regime today and you will be amazed at the improvements in the condition of your skin.
Close to nature
It does not matter whether you are going to be working in the garden, taking a walk or playing sports – your skin is constantly subjected to the drying effects of the sun so you must keep it moisturised and protected at all times. Some very special aromatherapy carrier oils contain powerful natural moisturising nutrients that actually resemble those found in the skin and are perfect for replenishing your depleted skin.
Cold pressed Macadamia oil is a highly softening and soothing) oil containing a massive 18% of palmitoleic acid which occurs naturally in the skin and supports cellular regeneration. There are very few other plant materials that contain such high levels of this precious component, and it is the perfect oil to soften and rejuvenate dull, dry skin. Apply to all areas that have been exposed to the sun when you get back indoors.
Nourishing and moisturising carrier oils
Argan oil is a deeply nourishing carrier oil rich in vitamin E, flavonoids, polyphenols, carotenoids, ferulic acid and antioxidants, which makes it brilliant for summer skin care. Argan has a rich, complex and unique chemical composition that softens wrinkles and protects against the damaging effects of premature aging.
This oil strengthens the protein bonding structures which tightens skin and improves its elasticity, while at the same time it has a regulating effect on sebum, promoting production of this vital substance for dry skin or reducing its secretion with oily skin. No wonder it's known as 'liquid gold' and 'Moroccan gold' in the beauty industry!
Evening Primrose, unrefined Avocado and Jojoba oils all contain high levels of palmitoleic acid plus other essential fatty acids that provide deep moisturising and nourishing qualities. Jojoba oil is wonderful and is a non-oily, highly emollient product that moisturises and conditions your skin without leaving it feeling greasy. It actually helps to unclog the pores of the skin.
If your skin has suffered really badly because of the cold weather throughout spring, Rosehip oil provides a great overnight treatment because it is a natural antioxidant with excellent emollient properties. Best of all, it is also a powerful skin cell regenerator that can help to soften fine lines and wrinkles.
Avocado, Peach and Apricot oils are good all-round moisturising oils that can be used to great effect and cost less than some of the others. Peach and Apricot are very light and easily absorbed into the skin which makes them perfect for softening and moisturising both face and body.
Avocado unrefined is quite rich and can be added to a lighter carrier at a 20% concentration to make it lighter. In fact all of these carrier oils can be used as a treatment on their own or mixed in combinations to suit your skins particular requirements. Of course, to really kick-start your summer skin you should add some rejuvenating essential oils to your chosen carrier.
Essential oils for the skin
Lavender, sandalwood, frankincense and geranium are great all-round essential oils to improve and maintain the condition of your skin. If you want to spend a little more money, rose and neroli are definitely a girls best friend – and the fragrance is just to die for! Our award-winning Rose Dilution makes the ideal summer skin treatment – and doesn't cost the earth. Rose stimulates micro-circulation, encourages cellular renewal, softens wrinkles and smells fantastic – what more could you want!
If your skin gets a little greasy in the hot weather, oils of lemon, juniper berry or cypress blended with geranium can help to balance over-productive sebaceous glands. Red and irritated skin can be effectively calmed with Roman chamomile and lavender blended in calendula oil, but take care to use no more than 1 drop of any essential oil to every 5mls of carrier when applying to the face.
Of course if you prefer you can add your essential oils to a professional unfragranced base cream or lotion. Whatever carrier you choose please take extra care to avoid the eye area when they include essential oils.
One common mistake many beginners make when blending their own recipes is to use too much essential oil in facial blends. Instead of using a 2% concentration of oils as you would on the body, you should be using no more than a 1% concentration on the face when you are using them on a regular basis.
Prepare your skin
The first step is to exfoliate all the areas that will be exposed to the sun. Apply your exfoliator and work in a circular motion over the face and body to slough off dead skin cells and reveal revitalised, fresh skin. Pay particular attention to elbows and kneecaps – especially if you are going to use a tanning lotion since these areas will absorb lotion unevenly if the skin is very dry and unconditioned. See this article to learn why you should exfoliate your skin.
After your skin has been cleansed of all those dead skin cells and polished to a fine texture, you will need to moisturise with something soothing – you will find a simple recipe for this in our Summer Skin Recipes. Finally, before you step out into the sunshine don't forget to use a good quality sunscreen to prevent burning.
If you start preparing your skin now, your skin will feel softer, radiant and in better condition for when the summer sunshine finally arrives. Remember, no matter what your age it is never too late for your skin to enjoy the many benefits that aromatherapy can produce. With regular use, you will stand the best chance ever of recapturing that youthful glow by using safe and natural products.
Copyright © Quinessence Aromatherapy Ltd 2022. Written by Sue Charles