Aromatherapy Carrier Oils To Protect Your Skin During Winter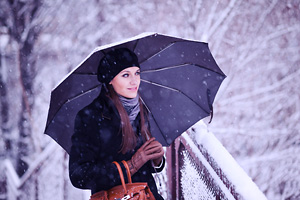 Throughout December here in the U.K. the the temperature has been falling quite dramatically, so now is the best time to start protecting your skin before the big chill really takes its toll.
For the same reason you change your clothes to suit the season, you should change your beauty products too. The harsh winter weather exposes your skin to extreme weather conditions that can cause dry, flaking and cracking skin in areas that are exposed to the harsh elements.
Cold air holds less moisture than warm air, as does the air in your centrally-heated home. Central heating draws moisture from the air and can rob your skin of moisture, leaving it dehydrated, dry, itchy and flaky. All of this means that your skin can be up to 25% less efficient at holding moisture during the winter months, so you can see why you need to seriously change your beauty routine to include protection for your skin.
Best natural treatments
For the past 30 years I've been telling anyone who will listen that aromatherapy carrier oils are the very best natural treatments for your skin – especially when they are used throughout the winter months. These amazing vegetable oils can be used for so much more than diluting your essential oils, and they are absolutely perfect for natural winter skin care protection. However, some women worry that using a carrier oil on the face will make an oily complexion worse. But unless you use too much this just does not happen.
Oily skin is mostly caused by the over-production of the skins natural lubricant, sebum, and this is usually the body's response to external aggressors such as extreme weather conditions that wreak havoc on your skin. Your body simply over-reacts to such situations, but in reality it is just doing its job as nature intended. A light application and massage with the correct carrier oils can help to support the natural pH of your skin, add moisture, and help bring things back into balance.
Carrier oils for winter protection
There is no reason today for your skin to suffer from the ravages of winter weather when there are so many amazing natural oils you can use to offer moisture and protection. Several aromatherapy carrier oils contain natural moisturising nutrients that are similar to those found in the hydrolipidic layer of the skin, which makes them absolutely invaluable for skin care protection throughout winter.
Here are some of the very best carrier oils for winter protection.
How to use them
Carrier oils can be applied to the skin any time, either morning or evening (or both) to suit your beauty routine and the amount of protection you need. Only a small amount of oil is required, but for the best protection and visible improvements to your skin you need to use it regularly. It can take about a month for a new layer of skin to grow, so 'a little and often' is the really best approach.
Gently massage a few drops onto the face and neck morning and night during the colder, windy weather to help keep that weather-beaten look at bay all through the winter. Remember that your legs and arms will need protection too, so don't be afraid to use your carrier oils on those areas too as part of your winter skin care protection regime.
Copyright © Quinessence Aromatherapy Ltd 2022. Written by Sue Charles