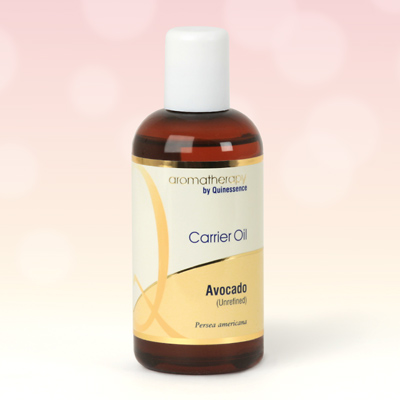 Avocado Carrier Oil (Unrefined)
Cold Pressed. Avocado unrefined is a rich, highly moisturizing oil that contains a wide range of fatty acids that feed the skin and help delay the signs of ageing. It is a deeply-penetrating oil that is ideally suited to skin that is dry, mature, or aging prematurely.
When used regularly in your beauty routine, unrefined avocado oil helps improve skins elasticity and moisture levels, bringing back that healthy youthful glow. Since it is a very rich, nourishing oil, it can be mixed with other suitable carrier oils for treating dry and mature skin, as well as damaged and brittle hair.
Unrefined avocado oil for dry skin
Because avocado oil penetrates the deeper layers of the skin it is perfect for protecting against wind burn during the colder weather. It also contains high levels of proteins and unsaturated fats, plus omega-3 fatty acids, sterol, sterolin and antioxidants.
Expressed from the avocado pear, cold pressed unrefined avocado oil is a deep green, slightly brownish colour due to its chlorophyll content.
See also Avocado Refined.
Buy with confidence – 30 Day Money-back Guarantee
Not tested on animals – learn more
Typical essential fatty acid profile:-
C16:0 Palmitic acid 7 - 32%
C16:1 Palmitoleic acid 2 - 13%
C18.0 Stearic acid 0.5 - 1.5%
C18:1 Oleic acid 36 - 80%
C18:2 Linoleic acid 6 - 18%
C18:3 alpha Linolenic acid 0 - 5%
Botanical Name:

Persea americana

Country of Origin:

United States

Extracted From:

Edible fruit pulp

Extraction Method:

Cold pressed