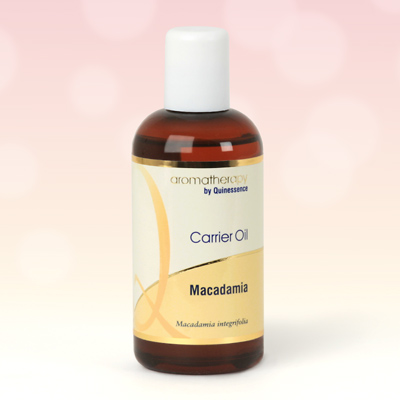 Macadamia Carrier Oil
Cold Pressed. As skin ages over the years, our bodies produce smaller amounts of palmitoleic acid which is vital in the production of young looking, soft and supple skin. Fortunately, Macadamia Oil is rich in palmitoleic acid, which is quite rare in vegetable oils.
It contains an even greater quantity of oleic acid which is also rejuvenating and moisturising, therefore these fatty acids work together effectively to help delay skin and cell ageing as well as providing fantastic skin moisturising properties.
Buy with confidence – 30 Day Money-back Guarantee
Not tested on animals – learn more
Typical essential fatty acid profile:-
C12:0 Lauric acid traces
C14:0 Myristic acid 0.4 - 1.6%
C16:0 Palmitic acid 7 - 10%
C16:1 Palmitoleic acid 16 - 23%
C18.0 Stearic acid 1.5 - 5%
C18:1 Oleic acid 54 - 63%
C18:2 Linoleic acid 1 - 3%
C20:0 Arachidic acid 1.5 - 3%
C20:1 Eicosenoic acid 1 - 3%
Botanical Name:

Macadamia intergrifolia

Country of Origin:

Australia

Extracted From:

Seed kernels

Extraction Method:

Cold pressed