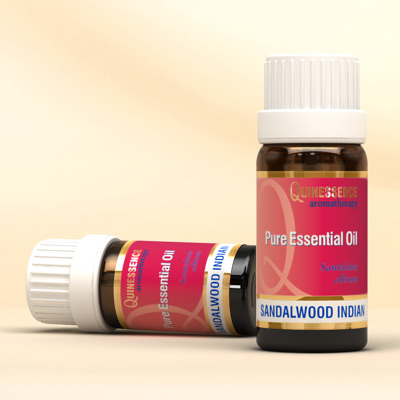 Sandalwood Essential Oil Indian
Antiseptic, soothing and relaxing. Highly prized since ancient times, East Indian Sandalwood Essential Oil has no equal, despite there now being more alternative sources than ever for the discerning aromatherapist. This divine essential oil has a rich, soft and creamy, sweet woody aroma with balsamic overtones that are unique to East Indian sandalwood. Now quite rare due to export restrictions it is still quite simply, the ultimate base note for blends, and totally unique in the world of aromatics.
Sandalwood Essential Oil is the perfect moisturising oil for all types of skin, and is especially nourishing to dry, flaky or mature skin, yet it can also rebalance over-oily skin due to its natural astringent action. The anti-aging properties of Sandalwood Oil are legendary, which is why it has been used in skin care for over a thousand years to reduce blemishes, scars and stretch marks. Its cooling properties help reduce itching and soothes red and irritated skin, and its antiseptic properties help to keep skin clear.
The powerful relaxing action of Sandalwood Essential Oil helps eases stress and confusion while increasing focus and clarity, and it is one of the oldest known aromatics used since antiquity as an aid to meditation and for enjoying a good night's sleep.
Buy with confidence – 30 Day Money-back Guarantee
Not tested on animals – learn more
Botanical Name:

Santalum album

Country of Origin:

East India

Extracted From:

Heartwood

Extraction Method:

Steam distillation

Principal Constituents:

cis-a-Santalol, cis-b-Santalol, b-Santalal, cis-Nuciferol, trans-a-Bergamotol, epi-b-Santalol, trans-b-Santalol, cis-Lanceol, b-Santalene, a-Santalal, epi-b-Santalene.