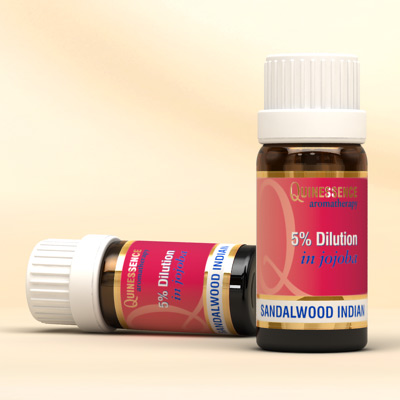 Sandalwood Indian 5% Dilution
Sandalwood is one of the oldest of all known aromatic materials and has a history that dates back over 4,000 years. Highly revered as a sacred fragrance by many religions around the world such as Buddhism and Brahmanism, its wood has been used to make religious artefacts and incense for a vast range of devotional ceremonies.
Over the past 10 years, demand for the essential oil from India has begun to outstrip supply and now this irreplaceable resource has become rare and therefore, costly. So to ensure you can still enjoy all of its benefits without your purse feeling the pinch, we now offer this precious therapeutic oil as a 5% Dilution in jojoba oil.
The unique and exquisite aroma of sandalwood essential oil is soothing and calming to an active mind, making the oil an excellent choice for anyone who leads a hectic daily life and suffers from the usual stress related issues this can create.
It also helps to disperse agitation and aggression which makes it exceptional for creating a peaceful, relaxing atmosphere around the home. Used in skin care its action is soothing, moisturising and softening which makes it perfect for dry, irritated or mature skin.
Buy with confidence – 30 Day Money-back Guarantee
Not tested on animals – learn more
Botanical Name:

Santalum album

Country of Origin:

India