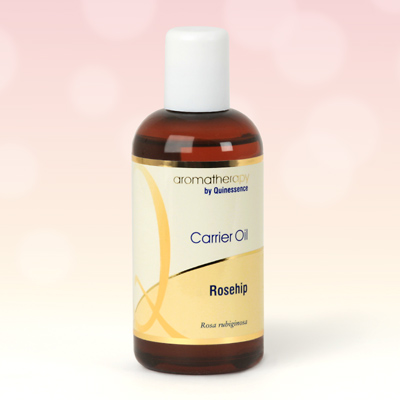 Rosehip Carrier Oil
Cold Pressed. Scientific research has proven Rosehip Oil, a notable carrier oil for essential oils, is a powerful skin cell regenerator that also helps prevent premature skin ageing. It is without doubt one of the finest natural oil treatments for fading scars, sun damage and stretch marks when used neat directly on the affected area regularly, where it reduces the formation of keloid scar tissue and loosens up fibrous cords.
Rosehip Oil has exceptional emollient qualities and is effective at softening wrinkles, which is why it is often found in expensive anti-wrinkle serums and creams. The unique fatty acid profile of this oil provides all the necessary nutrients to regenerate skin cells, fade wrinkles, sun damage and scars, and encourage a beautiful soft complexion – all at the same time!
This amazing natural oil has been used successfully in clinical research to fade surgical scars, accidental burns, and the skin darkening and actinic dermatitis caused by radiotherapy treatments in hospitals. Rosehip Oil continues to grow in popularity as more of its miraculous benefits are discovered.
Buy with confidence – 30 Day Money-back Guarantee
Not tested on animals – learn more
Typical essential fatty acid profile:-
C16:0 Palmitic acid 3.6%
C18.0 Stearic acid 2.15%
C18:1 Oleic acid 15%
C18:2 Linoleic acid 47.7%
C18:3 Linolenic acid 28.5%
C20:0 Arachidic acid 0.9%
C20:1 Eicosenoic acid 0.45%
C20:2 Eicosadienoic acid 0.15%
C22:0 Behenic acid 0.2%
C22:1 Docosenoic acid 0.15%
Botanical Name:

Rosa rubiginosa

Country of Origin:

Chile

Extracted From:

Seeds

Extraction Method:

Cold pressed