Aromatherapy Tips For Winter Skin Care Protection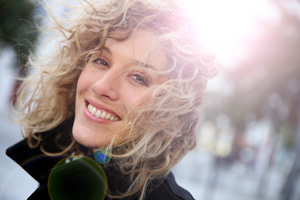 The last few weeks here in the U.K. have seen temperatures both above and below typical seasonal averages, making it tricky to know just what to wear to keep warm outside.
However, 22nd December is officially marked as the first day of winter and many of us have already experienced the first fall of snow earlier this month.
Clearly, the last few days of autumn are behind us now as winter begins to make its presence known.
Time to take action
So with the threat of more cold weather to come, this is perhaps your last opportunity to prepare and protect your skin for the approaching colder season. The harsher weather at this time of year can wreak havoc on your skin causing sore, dry, and cracking skin patches that can be hard to treat. And remember, the weather may not feel much warmer until March, which is over three months away!
Taking appropriate steps now to implement a winter skin care protection regime is much better than having to try and nurse your precious skin back to health after neglecting it for three months. Prevention is always better than cure, and there is no better way to ensure your skin survives the winter than by using your versatile and natural essential oils!
Soothe, renew and protect
Aromatherapy carrier oils are ideal to help to keep your skin soft and supple when the first of the colder weather approaches. Adding essential oils such as sandalwood, frankincense, geranium and rose to nutritious carrier oils such as argan macadamia, jojoba or rosehip oil will give you even better winter skin care protection against the harsh weather conditions, and can actually help to reverse the effects that the cold environment has had on your skin.
High quality hypoallergenic cream and lotion bases are perfect as carriers for adding skin-conditioning and protective essential oils, but they must be unfragranced bases. These specially formulated professional bases can work wonders to rehydrate dried, flaky and chapped skin especially with the addition of the correct essential oils.
Essential oils of Roman chamomile and lavender are ideal to soothe red and tender skin that has been lashed by  chilly winter winds. Blend these essential oils in soothing calendula carrier oil to help reduce and calm the irritation, but add no more than 1 drop of essential oil to every 10mls of carrier when applying to the face. Take extra care to avoid the eye area.
Sandalwood and geranium essential oils are great all-round essential oils to improve or maintain the condition of your skin, – at any time of year. And if your skin is a little greasy due to the change in season then essential oils of lemon, juniper berry or cypress blended with geranium can help to balance over-productive sebaceous glands.
Thread veins
Winter can play havoc with thread veins (also known as spider veins), which are the broken capillaries that often appear as little red lines on the cheeks and nose. Biting, freezing winds and rain can make these unsightly skin blemishes appear much worse and they can be very difficult to treat. Frankincense, rose and neroli are the finest essential oils to combat these creepy-crawly spider veins, with the added benefit that these essential oils encourage healthy new skin cell growth. Plus they smell absolutely great too!
Rose essential oil also helps to maintain the elasticity and strengthen the collagen and elastin fibres of the skin by improving micro-circulation. In fact, rose is arguably the very best essential oil for winter skin care protection, since it can be used individually or blended with other oils such as lavender, geranium, palmarosa and sandalwood. Used individually or together, these essential oils will deliver visible results in your skin after only a few weeks of regular use, so it is well worth the effort to start using them now as pat of your winter skin care protection routine.
When applying blends to your face always include the skin down to the décolleté (lower neck area) since it can show the signs of ageing long before the face does. For facial applications use no more than one drop of your chosen essentials oil to every 10ml of carrier oil, cream or lotion base.
Hands up
Of course, we must not forget to include some protection for the hands since they tend to show the effects of the winter weather first. Any of the essential oils we've already mentioned can be added to a carrier cream, lotion or carrier oil to help moisturise and protect your weather-beaten hands.
Blends of essential oils including benzoin, elemi, geranium, lavender myrrh and sandalwood mixed in a cream base make highly effective treatments that will keep your hands in excellent condition right through the winter. For best results be sure to use your hand treatment at least once a day – twice if you can dedicate the time.
Moisturising your hands before retiring to bed should ideally become a part of your hand-care routine for the rest of your life – and not just through winter. Remember to gently massage the hands until all of the oil or cream has been absorbed.
Copyright © Quinessence Aromatherapy Ltd 2021. Written by Sue Charles