Rejuvenate Your Hands With Aromatherapy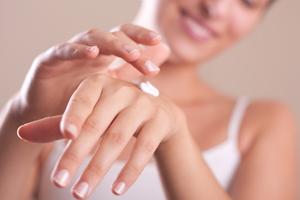 Every woman knows that her hands reveal the truth about her age. No matter how much money is invested in cosmetic surgery, absolutely nothing can be done surgically to turn back the hands of time and rejuvenate your hands!
Life can just be so cruel sometimes.
We use our hands to communicate and express our feelings to everybody we meet, so this makes it vitally important to care for them properly to ensure you keep them feeling soft, smooth, and looking good.
Unfortunately, our hands can succumb to dryness and chapping during the autumn and winter months, especially if you're out first thing in the morning or late at night when it's bitterly cold. And conventional wisdom says that once the damage has been done to these precious and vital assets, there can be no turning back the clock for them. This statement may come as a shock to you, but can it really be true?
Fortunately this isn't true, and there are many things you can do to protect your hands in the first place, plus it's never too late to make improvements. But to do this we must start the defensive action right now, and all you'll need are the correct aromatherapy carrier oils and few essential oils to protect and rejuvenate the most age-revealing parts of your body in preparation for the summer.
Skin deep
The skin on the back of your hands is some of the thickest on the body, which is just as well when you think what they have to go through in daily life. Harsh detergents and soaps can have a devastating effect on the hands if they are used regularly, plus the drying effects of the harsh winter elements – this is why natural soaps are so much better for you.
The skin on your hands really does need intensive, deep penetrating hydration and nutrition. Of course you mustn't forget the preventative approach either, so be sure to use rubber gloves when washing up. Never put your hands into very hot water unless you are wearing gloves.
Thankfully, carrier oils meet all of these needs, plus adding certain essential oils can actually help rejuvenate your hands too. You'll find my list of the most effective essential oils for revitalizing your weather-beaten hands listed in the sidebar.
And best of all, when you make these treatments yourself at home they cost much less than leading brand-names, and are far, far more effective too. So let's get to it!
Aromatherapy carrier oils to rejuvenate hands
There are some very simple aromatherapy treatments that can be used to help protect, soften and rejuvenate your hands. Carrier oils such as argan, apricot, coconut, macadamia, moringa and peach are all quickly absorbed into the skin and perform wonders at revitalising and softening the hands.
Calendula oil works absolute miracles on sensitive, dry and chapped hands that were subjected to the biting winter winds. Now that Spring is here you should start treating your hands in preparation of the hotter summer weather, and within weeks you will be amazed at the difference you will see and feel.
For an effective overnight deep moisturising hand treatment, massage them with argan, borage, evening primrose, coconut, jojoba, moringa, or macadamia carrier oils. Only a small amount of oil is needed, and gentle circular massage movements will ensure that all of it is absorbed into the skin.
All of these aromatherapy carrier oils are ideal for rejuvenating your hands, but my preference is for macadamia oil since it is light, deep penetrating and not at all greasy. Macadamia oil contains up to 20% palmitoleic acid, which is an essential fatty acid found in sebum, and there are very few plant materials that contain this most precious skin-nourishing ingredient.
Aromatherapy hand massage
Whilst you are giving your hands a well deserved treat, give them a thorough massage treatment as well to really get the blood flow moving. Use small circular movements with your fingertips over the back of your hands and right up to your finger joints, front and back. This will stimulate the circulation in your hands bringing a fresh, rich supply of oxygenated blood to rejuvenate your hands.
Then massage their backs with your thumbs, and work your way right up to your wrists. They will feel energised and refreshed with the increased blood flow, whilst the oils will work to soften your skin and encourage radiance and vitality. Remember to massage over your nails and cuticles daily to help prevent splits and breaks.
Intensive care
For a truly intensive treatment regime, choose one of the essential oil recipes from the side panel and use it regularly. In fact, for the best results be sure to take advantage of your special hand treatment at least once a day, or better still twice, if you can manage to find the time. Trust me, it's worth it.
Moisturising your hands before retiring to bed should ideally become a part of your hand-care routine for life. Always remember to gently massage until all of the oil or cream has been absorbed. Follow this simple routine and you should be well on the way to seeing a more youthful appearance in your hands by the time summer finally has arrived.
Copyright © Quinessence Aromatherapy Ltd 2022. Written by Sue Charles