Basil Essential Oil Shows Bacteriostatic Effects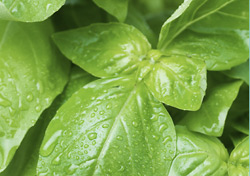 As in recent years the usage of the herbal materials has been increased, it seems necessary to study the antibacterial effects of them. The herb basil (Ocimum basilicum), which is easily cultured worldwide, may be a potentially good candidate to be used as a plant with antibacterial activity.

Basil essential oil was distilled using a Clevenger-type apparatus and extracted from plant leaves. The antibacterial properties of basil essential oil was studied on the standard gram-negative bacteria including Escherichia coli, Pseudomonas aeruginosa, and gram-positive ones including Bacillus cereus, Staphylococcus aureus, then agar disk diffusion, minimal inhibition concentration (MIC) and minimum bactericidal concentration (MBC) were detected.
The results of agar disk diffusion tests showed the inhibition zones as follow: S. aureus 29.20-30.56 mm, B. cereus 10.66-16.11 mm, E. coli 17.48-23.58 mm and for P. aeruginosa the maximum inhibition zones were seen.
The results of this study showed the presence of bacteriostatic effects of basil essential oil on all the test bacteria. The MICs for gram-positive bacteria were as: B. cereus ranging 36-18 μg/mL, S. aureus 18 μg/mL, and for Gram-negative bacteria of E. coli and P. aeruginosa were 18-9 μg/mL.
Copyright © 2011 Amir Mohammad Daneshian Moghaddam, Jalal Shayegh, Peyman Mikaili, Jalil Dolghari Sharaf, Journal of Medicinal Plants Research.