How To Create A Scented Garden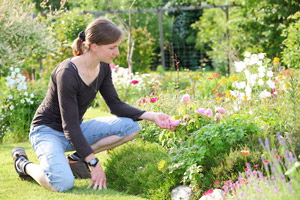 A garden without perfume is like a garden without soul. Read our 12 essential tips for creating a space that's as beautiful as it is fragrant. Here's how to create a scented garden;-
1. H is for herbs
Herbs are the stars of the scented garden. Essentials include rosemary (sow from a pot grown plant in May and pick it ferociously), basil (plant out in June and pinch out tips to keep it bushy), mint (best planted in a sunken container to prevent invading your garden) and parsley (Italian flat leaf is the easiest to grow). Marjoram is also a good herb for the beginner.
2. Lavender Blue
No scented English garden is complete without bushes of fragrant lavender. Remember it's a Mediterranean herb so its roots won't take kindly to sitting in wet soil. Best advice is to add a layer of grit when planting and remember to prune hard.
3. Give peas a chance
Sweet peas are an essential element of the fragrant cottage garden. Sow out in March with a sturdy structure to climb and they'll reward you with a beautiful scented display throughout summer. Regularly pinch off side shoots and tendrils to encourage upward growth.
4. Warm front
Use warm south or west-facing walls and fences to best advantage by placing scented plants nearby. The warmth will waft aromas from the flowers and leaves: perfect while you sip your glass of sundowner rosé.
5. Flora and fauna
Monarda is a great choice for a sunny border. Not only does it smell divine (think lemony and aromatic) but it will also attract butterflies. Another butterfly favourite is honey-scented buddleia. Bear in mind that if butterflies are attracted to a plant, bees will be too, so don't plant right next to a seating area, particularly if you have children.
6. Queen of the garden
Roses have been used for scent since Cleopatra's time. The most fragrant of them all? The beautiful Evelyn, named on behalf of Crabtree & Evelyn, with her saucer-size double blooms in apricot and pink. Read our guide to creating a rose garden.
7. Added benefits
Scented plants are used for herbal medicines, aromatherapy and cooking but some are toxic so unless you know exactly what you're doing, our advice is to leave it to the professionals.
8. Reach for the stars
Scented climbers include honeysuckle, clematis, jasmine ('Clotted Cream' variety is particularly fragrant) and some climbing roses such as Alchymist. They look beautiful trailing over fences, along walls, or if you're fortunate enough to have one, over an arbour with seating beneath.
9. Chocolate-themed garden
Now we're not suggesting you attempt to grow the cacao tree (unless you live in the tropics) but there are plenty of plants that impart a deliciously chocolatey taste, aroma or colour. For example you could grow chocolate mint herb, chocolate cherry tomato or chocolate bell pepper. Edible chocolate flowers include chocolate nasturtium and chocolate calendula or you could try the (non-edble) chocolate geranium.
10. Seek inspiration
Before embarking on your own horti-adventure why not pay a visit to the scented West Garden of Hatfield House in Hertfordshire or Lytes Cary Manor, the Tudor home of 16th century herbalist Henry Lyte, in Somerset. Both are a veritable feast for the senses.
11. All things fragrant
For more ideas visit ScentedShrubs.com, a handy little website dedicated to fragrant gardens. Browse shrubs, climbers, roses and useful garden accessories. Note the winter-flowering varieties such as daphne and osmanthus.
12. Chamomile lawn
Follow the lead of the gardeners at Buckingham Palace by planting chamomile among the grass. When you tread on it releases a heady fragrance. If you have an area of your garden that doesn't get too much traffic, this is the perfect spot for a fragrant lawn.
Copyright © 2011 uktv.co.uk