Aromatherapy – The Ultimate Mother's Day Gift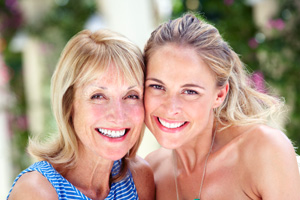 Celebrating Mother's Day goes back to the times of the ancient Greeks and Romans, and in Christian religions a special day called 'mothering Sunday' was a time to give thanks and honour that special person in our lives.
Although Mother's Day is celebrated on differing days and times in various countries around the world, it is worldwide celebration of our appreciation for the love and dedication that our mums bestowed on us throughout the years. They brought us into this life, cared for us, protected us, became a teacher, a guardian, our best friend, and comforted us through all the hard times.
Our mums made many sacrifices along the way as she balanced up caring for us with cooking meals, cleaning the home, washing clothes, taking us to and from school, and other such chores while at the same time running the home. In many instances this may have also included going to work either full or part time.
A real superstar
All of these things just go to show what a superstar our mums really are and how hard it would have been for them to balance everything up. So a thoughtful gift or two will show her just how much you care and appreciate all that love and sacrifices made for you, and how much pleasure it gives you to let her know that she is a special person in your life.
Your birth-mother may no longer be with you, but there may be another mother-figure in your life who has taken on the role of bringing you up that you would like to show your affection and love for. So let's show those 'stand-in' mums how special they are to us, and that the gift you give her is a recognition of your appreciation.
In the past, you have probably bought your mother flowers and chocolates, gifted her a treatment at the local beauty spa, or even taken her to a restaurant for a lovely celebratory meal on this special day. So this year, why not try something completely different?
Here are some gift ideas that will keep on giving for much longer than flowers, chocolates or a meal ever could do . . . the gift of aromatherapy! Giving your mother natural products with beautiful aromas that deliver therapeutic health benefits is bound to please her and will show her just how much you love her and care about her wellbeing.
Home-spa bath soak
Treat your mum to a home-spa treatment she will remember with a Quinessence Relax Bath Soak containing rose, geranium and sandalwood essential oils for an extra-special, deeply relaxing soak in the tub. If she loves the fragrance of lavender then our Provence Lavender Bath Soak would be right up her street since it contains the very finest lavender available to pamper and soothe her, plus she will find it a wonderfully relaxing yet uplifting experience that will remind her just how much you love her.
Home fragrancing
Essential oils are perfect for setting a mood and creating a particular ambiance around the home, whether it is to relax your mother after a busy day, or uplift her spirits. And the best way for her to enjoy them is using a modern aromatherapy diffuser that uses ultrasonics to disperse the magical aromas without the need for tea-light candles. The latest ultrasonic diffusers include built-in soft coloured lights to add to the relaxing ambience, plus a timer, humidifier, ionizer and air purifier. This type of diffuser runs for hours and is low maintenance, plus it's very easy to clean out. A perfect Mother's Day gift!
If you're mum already has an aromatherapy diffuser, then why not treat her to a few Quinessence Mood Enhancers containing expert blends of undiluted essential oils designed to create a soothing and relaxing ambience around the home. Whether your mum likes citrus, floral, woody or exotic aromas, there is bound to be something from our extensive range that she will really enjoy.
Skin care
Your mothers hands will have taken a beating in all that hot water while doing the household scrubbing, cleaning and washing-up during her lifetime, so a luxurious aromatherapy hand cream to pamper and soften her hard-working hands will go down a treat. Quinessence Nourishing Hand Cream contains essential oils of myrrh, benzoin and elemi combined with soothing and healing primrose and horse chestnut botanicals to promote smooth, supple hands. This unique nutrient-rich combination helps put back what the years have taken out of you mum's hands.
Perhaps your mother might appreciate something protective, nourishing and natural to care for her face and enhance her appearance. Indulge her with our award-winning Age Defying Cream containing skin-loving rose otto, lavender and aloe vera to combat free-radicals and stimulate the production of collagen. What mother wouldn't love that! Nothing beats rose otto when it comes to caring for skin, and the aroma is absolutely exquisite . . . a complete aromatherapy treatment for mind, body and spirit.
Make it personal
You could make a personalized skin care cream for your mum yourself by adding your mums favourite essential oils to a professional aromatherapy cream base. This is really easy to do; simply add a total of 10 drops of essential oil to a 100ml pot of cream base and stir them in really well until everything is mixed together. You can even design your own label to put on the jar to reflect the love and care that you have put into the present. Your mum will be super-impressed with a personal gift that will help her skin to keep looking young and vibrant while it delivers a beautiful aroma to calm and relax her.
If you choose to give the gift of aromatherapy to your mother this year, you can rest assured that you will be indulging her in the very best that nature has to offer, free of harsh chemicals and paraben preservatives. And when it comes to value for money, very little these days comes close the true value that aromatherapy represents, since it brings health and happiness to everyone it touches. Aromatherapy truly is the gift that keeps on giving – long after the chocolates have been eaten and the flowers have withered!
Copyright © Quinessence Aromatherapy Ltd 2023. Written by Sue Charles