Complete Body Massage DVD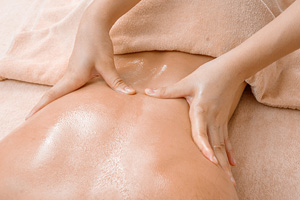 After many years of searching for a good quality massage training DVD that offered value for money, last year we finally found one and introduced 'Back and Neck Massage Made Easy!'
This great instructional DVD proved to be very popular. But some customers wrote to us telling us they wanted more . . .
Learning to do a back and neck massage just wasn't enough, they said, – 'We want to learn how to do a full body massage!' So this month we are pleased to introduce 'Complete Body Massage Made Easy!', which meets the same high standards as the first DVD, because it was filmed by the same production company.
If you have ever wished that you could give a really great, therapeutic, full-body massage to your partner, friends or family – but were put off by the high prices for all those lessons at night school or college then this is a fantastic low-cost solution.
'Complete Body Massage Made Easy!' is a high quality, instructional DVD that shows you step-by-step exactly how to perform a safe and effective massage for friends and family of all ages, all from the comfort of your own home.
An expert therapist demonstrates each and every movement complete with an easy to understand commentary so that you will know exactly how to perform the perfect massage effortlessly.
This is a hundred times more instructional than a 'teach yourself' book that only uses sketchy diagrams or photographs because you are shown exactly how and where to place your hands to perform the massage movements and strokes flawlessly. It's a proven fact that you retain far more information when you learn by watching and listening rather than reading.
The interactive menu guides you through each stage of giving a massage, and all of the techniques are explained and demonstrated in exactly the right sequence, so that in a matter of only hours – not weeks or months – you could be giving your very first massage to friends and family. It's just like having one-on-one tuition from an expert therapist right there with you!
This highly instructional DVD is an excellent reference tool for even the most experienced massage therapist, and if you are considering taking up massage as a profession then this program will give you the perfect foundation to build professional training upon.
Copyright © Quinessence Aromatherapy Ltd 2009