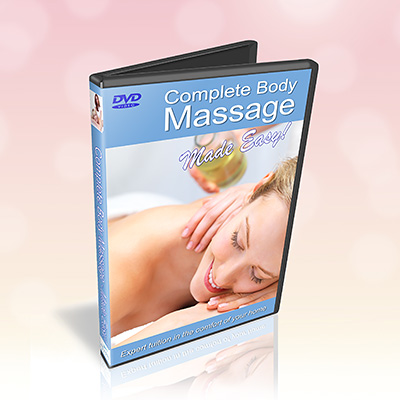 Complete Body Massage DVD
Have you ever wished that you could give a really great, therapeutic, full-body massage to your partner, family or friends but have been put off by the high prices for all those lessons at night school or college?
Maybe you have considered becoming a massage therapist, or perhaps you would just like your partner to give you a relaxing, soothing massage!
Well now you can fulfil your desire, because at last there is a much cheaper alternative that will teach you or your partner how to massage confidently, and to a very high standard.
'Complete Body Massage - Made Easy!' is a high quality, instructional DVD that shows you step-by-step exactly how to perform a safe and effective full-body massage for friends and family of all ages, all in the comfort of your own home.
An expert therapist demonstrates each and every movement complete with an easy to understand commentary so that you will know exactly how to perform the perfect massage effortlessly.
This method is a hundred times more instructional than a 'teach yourself' book that only uses sketchy diagrams or photographs because you are shown exactly how and where to place your hands to perform the massage movements and strokes flawlessly.
Buy with confidence – 30 Day Money-back Guarantee
It's a proven fact that you retain far more information when you learn by watching and listening rather than reading, and because the massage movements are recorded on DVD you can review and replay them as often as you like until you have mastered all the techniques. It's just like having one-on-one tuition from an expert therapist right there with you!
In a matter of only hours - not weeks or months - you could be giving your very first massage to your partner! No need to spend your hard earned cash on expensive, time consuming massage courses at college or night school, and there will be no nerve-wracking examinations for you to take either.
From the highly successful Massage Made Easy series, 'Complete Body Massage' covers absolutely everything you need to know and is divided into easy to follow sections that lead you through the entire process of giving a therapeutic, safe massage. This superb DVD even includes 30 minutes of calming and relaxing music in case you don't have any of your own! Remember, therapeutic massage is one of the safest and most effective forms of natural therapy and has been enjoyed throughout the world since time immemorial. Massage can relieve pain naturally and dramatically reduce the effects of stress and tension, leaving you feeling truly relaxed and revived.
Massage therapy also improves circulation, lowers blood pressure, stimulates the immune system, increases the elimination of toxins and can even help with migraines, headaches and insomnia. When done correctly, massage can literally add years to your life by soothing away the negative effects of stress that can lead to serious ill health. As we all know, prevention is much better than cure!
So whether you desire to learn a new skill, or want to give a beneficial massage to someone you care about to relieve their stress, tension, aches and pains, then the tuition provided on this DVD is exactly the resource that you need. Alternatively, you may just want your partner to give you a sensual, relaxing massage instead! Impress everyone who knows you with your newly acquired skill, and take a positive step to improve the overall health of those you love using the healing power of touch.
Learn how to give a Complete Body Massage, - today!
Playing time - 45 minutes
Format - PAL System (Europe)