Ginger & Orange Essential Oils Ease Knee Pain; Study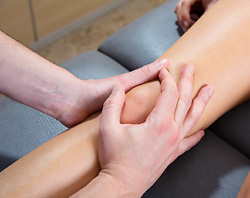 For the life of me I can't work out why the people responsible for conducting this study would have chosen sweet orange to partner with ginger essential oil! There are so many better choices of oil for this condition such as sweet marjoram, black pepper etc, that I can only hypothesize the choice was influenced by cost, rather than efficacy.

If the results of the study were going to be used to establish the practicality of using this treatment on a regular basis, then cost would certainly be part of the evaluation. Admittedly, orange essential oil can be helpful, but so many others could have created a far more therapeutically powerful synergy. Baffling.
Nonetheless, any research is better than no research into the healing benefits of essential oils, so perhaps I shouldn't be too critical. That said, their conclusion (although vaguely positive) is hardly a resounding recommendation for treating knee pain with essential oils. And many aromatherapists reading this study will understand precisely why.
********************************************************
An experimental study on the effectiveness of massage with aromatic ginger and orange essential oil for moderate-to-severe knee pain among the elderly in Hong Kong.
Objectives
To assess the efficacy of an aromatic essential oil (1% Zingiber officinale and 0.5% Citrus sinensis) massage among the elderly with moderate-to-severe knee pain.
Method
Fifty-nine older persons were enrolled in a double-blind, placebo-controlled experimental study group from the Community Centre for Senior Citizens, Hong Kong. The intervention was six massage sessions with ginger and orange oil over a 3-week period. The placebo control group received the same massage intervention with olive oil only and the control group received no massage.
Assessment was done at baseline, post 1-week and post 4 weeks after treatment. Changes from baseline to the end of treatment were assessed on knee pain intensity, stiffness level and physical functioning (by Western Ontario and McMaster Universities Osteoarthritis index) and quality of life (by SF-36).
Results
There were significant mean changes between the three time-points within the intervention group on three of the outcome measures: knee pain intensity (p=0.02); stiffness level (p=0.03); and enhancing physical function (p=0.04) but these were not apparent with the between-groups comparison (p=0.48, 0.14 and 0.45 respectively) 4 weeks after the massage.
The improvement of physical function and pain were superior in the intervention group compared with both the placebo and the control group at post 1-week time (both p=0.03) but not sustained at post 4 weeks (p=0.45 and 0.29). The changes in quality of life were not statistically significant for all three groups.
Conclusion
The aroma-massage therapy seems to have potential as an alternative method for short-term knee pain relief.
Abstract Copyright © Yip YB, Tam AC, 2008. Complementary Therapies in Medicine, 2008 Jun;16(3):131-8. doi: 10.1016/j.ctim.2007.12.003. Epub 2008 Mar 4. PMID:18534325
Copyright © Quinessence Aromatherapy Ltd 2013. Written by Geoff Lyth