Lemongrass Eases Muscle Cramps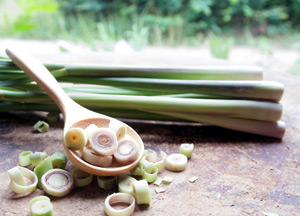 Since the beginning of medicine, people have looked for a way to ease the pain and discomfort of a variety of ailments. Over time, some herbs have been found to be highly effective as natural remedies, and lemon grass is one that is known to alleviate the pain felt as a result of muscle cramps. Effective in a variety of forms and for a diverse list of medical issues, lemongrass is a very widely used herb that has been incorporated into numerous industries.
Known officially as Cymbopogon citratus, or Cymbopogon flexuosus, lemongrass has also been assigned the monikers lemongrass, scurvy grass, citronella grass, and fever grass. It is a perennial tropic grass that grows primarily in warm climates and is often found in Asian countries, as well as Africa and South America. With roughly 55 species known to provide medicinal treatment, lemon grass has also been used as thatching for huts and cottages in traditional cultures.
The benefits of lemongrass are evident before the herb is even prepared, as the leaves have an aromatic smell that can be used as fragrance in potpourri and satchels. The leaves themselves, which are a staple in Ayurvedic medicine, vary in color from yellow to reddish brown and can be used in fresh, dried, powered, and oil form. Oil form is one of the most popular; lemongrass essential oil is distilled from the leaves and is very thin in texture, similar to water.
Lemongrass is known as a great natural treatment for muscle cramps, as it alleviates the stress in the tissues and helps the muscles relax. But this herb has many other applications, ranging from a food additive to a fragrance used in beauty products. Some of the various uses of lemon grass include: a flavor supplement in food, especially wine and sauce; a fragrance for soaps, creams, detergents, perfumes, lotions, and hair products; a pesticide and rodent repellant; a degreaser; a treatment for depression; and a natural, safe way to fight off fatigue and to invigorate the senses.
Additionally, Chinese herbalists have long used lemon grass to treat a variety of ailments, including: colds, fungal infections, stomach aches, digestion issues, spasms, toothaches, the buildup of mucus, and rheumatic pain. Lemongrass also kills germs, stops flatulence, helps blood to clot, acts as diuretic, increases kidney health, serves as a sedative, treats ringworm, and is an effective tonic.
Though the benefits of lemongrass seem to go on and on, there are two issues that people using this herb should keep in mind. First, when used topically, lemongrass can cause irritation to sensitive skin. To prevent discomfort, it is recommended that anyone using lemon grass for the first time apply it to a small patch of skin to ensure that s/he does not have an adverse reaction. Additionally, it is highly recommended that pregnant women refrain from using lemon grass.
Clearly, the health benefits of lemon grass include the ease of muscle cramps and so much more. As a staple in modern and ancient natural medicine, lemon grass has proven itself to be a versatile and effective treatment for many ailments. It is a wonderful herb that will provide many health benefits. The ability of this herb to alleviate muscle cramps can be heightened by using it in a smoothie or elixir after a workout.
Article source © 2011 Lenette Nakauchi, NaturalNews.com