Aromatherapy Rescue For Dry Winter Hands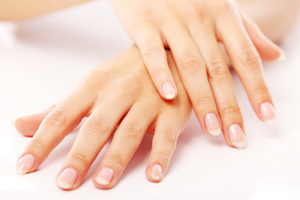 How many of us apply moisturisers to our face and neck, and enhance our facial appearance by carefully applying makeup to hide wrinkles and look younger – but do absolutely nothing to protect and care for our hands to keep them looking good?
Your hands are one of the most exposed areas of your skin, yet we often forget to lavish the care and attention they deserve. You only have to look at somebody's hands to get a good idea of their age, and this is especially true of women.
Our hands will always reveal the story of our lives, so it is important to know how to really care for them if you want to keep people guessing about your age!
Battling the elements
The mortal enemy of those who want to keep their hands beautiful and soft, is the harsh winter weather blasting icy-cold winds and driving rain at us whenever we are outdoors. Our hands can easily become dry, sore or chapped while batting through winter, and they are especially vulnerable when you're out very early in the morning or late at night when you're travelling to and from work and suffering the freezing cold.
And despite knowing that we should wear gloves outdoors in winter, we often have to take them off to perform fiddly tasks such as using keys, pulling out your credit card etc . . . but we often forget (or can't be bothered) to put them back on again! Since your hands are one of the first things people notice about you it's really important to take extra care of them, and its not hard to do when you know how.
Deep-penetrating aromatherapy treatments are perfect for rejuvenating hands since the raw materials you use to protect, nourish and soften them are inexpensive, effective, and best of all, they are natural. Carrier oils are rich in all the essential fatty acids, vitamins and minerals required to condition and soften skin, making them absolutely perfect for deep-moisturising those poor weather-beaten hands. We'll also show you some of the best essential oils to supercharge your hand treatments, since this can speed up the restoration of your weather-beaten hands.
Natural hand care oils
Carrier oils are highly moisturising and emollient, and all of them penetrate the skin quickly to nourish and soften your hands without leaving them oily. However, some carrier oils are better than others for hand care because they contain vitamins and minerals as well as those all-important essential fatty acids. The best carrier oils to protect, nourish and repair your hands during the bitterly cold weather include; –
Argan oil – The unique chemical composition of argan oil deeply nourishes the skin helping to soften hard skin, improve elasticity, and protect against premature aging due to environmental aggressors.
Calendula oil – The healing properties of this oil are legendary. It works absolute miracles on chapped hands that have been subjected to biting winter winds and become irritated, red, sore or sensitive.
Coconut oil – This oil penetrates skin quickly to nourish, moisturise, and soften weather-beaten hands.
Macadamia oil – Macadamia oil contains oleic and palmitoleic acids that are rejuvenating and moisturising, working together to help delay skin ageing as well as providing fantastic skin moisturising properties.
Moringa oil – This amazing carrier oil has a 'dry' feel that delivers outstanding moisturising and nourishing skin beautifying nutrients that are quickly and easily absorbed, leaving skin feeling silky soft and smooth. Perfect winter protection.
Peach oil – Light and readily absorbed, this oil works its magic without leaving the skin feeling oily afterwards. Apricot contains vitamins A and E, plus significant amounts of oleic and linoleic fatty acids that work to keep hands youthful looking.
How to intensify your winter hand treatments
To intensify your winter hand treatments try adding essential oils to any of the carrier oils listed above, or if you prefer, you could use a professional hand cream base made especially for the addition of essential oils. Quinessence Nourishing Hand Cream Base was made for exactly this purpose. The reason that aromatherapy can improve the condition of your skin so dramatically is due to the powerful combination of the moisturising carrier oils blended together with the healing and skin-rejuvenating qualities of essential oils. When the correct oils are used together, the resulting blend can bring about miraculous results on dry, cracked and sore hands that have been damaged by the harsh conditions.
So, to put back what the winter weather has taken out of your hands, use the essential oils below in one of the carrier oils listed above. You only need a total of 3 drops of essential oil to 5ml (1 teaspoon) of an aromatherapy carrier oil or cream to produce a really effective winter hand treatment –
1 drop of Frankincense
1 drop of Myrrh
1 drop of Helichrysum
Here's another recipe designed to bring you the same, healing and reviving results –
1 drop of Elemi
1 drop of Myrrh
1 drop of Benzoin
This is a great protective and restorative blend that smells absolutely delicious! –
1 drop of Lavender
1 drop of Geranium
1 drop of Benzoin
Only a small amount of your winter hand blend treatment is needed during each session. Apply it directly to the backs of your hands and begin using gentle circular massage movements all the way up to your wrists until the oil has all been absorbed. Pay special attention to the spaces between your fingers where skin can crack due to dryness, and then work your way right up to the tips of each finger. While you are at it, spend some time massaging the blend into your nails since they need a little TLC too.
It's easy to see why having a daily hand care regime is vitally important, especially when failing to do so can eventually lead to your hands losing their youthful, soft, suppleness, and developing hard, dry skin and age spots. A regular hand treatment regime becomes even more important to protect and nourish your hands during the remaining winter, so you need to step up the intensity and frequency of your regular hand treatments right now to keep them looking their best.
Copyright © Quinessence Aromatherapy Ltd 2023. Written by Sue Charles