Aromatherapy Tips To Help Spring-Clean Your Health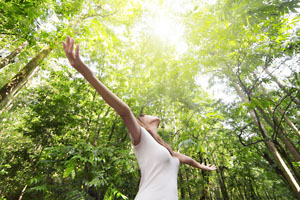 Like many people, you probably started the New Year with all manner of good intentions that slipped by the wayside within just a few weeks.
Now that spring is here it's a great opportunity to focus on your personal goals again, except this time think about recruiting some help from aromatherapy to help you stay on the path towards better health and wellbeing.
Springtime symbolises rebirth and renewal on many different levels, but for me it seems particularly relevant to the state of our health. On a mental level we often undertake new beginnings at this time of year by seeking a new career or relationship, or perhaps by making a determination to walk a more spiritual path in life. On a physical level, spring is the traditional season for cleansing and rejuvenating because as the seasons change, so do the requirements of our body.
Enjoying good health is such an important goal in our lives, and using the right approach to achieve this increases your success rate exponentially – especially if your chosen method is aromatherapy because it works on your mind and your body at the same time. Remember that our mind affects our body, so a spring-clean for both is a really good place to start, since there are plenty of essential oils available to help you both physically and emotionally.
Aromas to spring-clean your health
Surrounding yourself with revitalising aromas is one of the fastest ways of uplifting your mood and boosting your energy levels, and it is so easy to do since all you need is aromatherapy diffuser of some kind. It does not matter what type you use, the results will be the same . . . you will quickly feel energised and in a brighter, happier mood. And living a positive, happy, optimistic life is so much better for your health because holding a positive outlook actually protects you from the stresses of life. Before you can begin the process of improving your health you need to have your mind in the right place, and your body will follow. Think of it as a spring-clean for your mind!
So, let's kick off by celebrating the change in season with some re-energising essentials to set the right mood to aid your spring-clean. Add 2 drops each of sweet basil, geranium and lavender to your aromatherapy diffuser or burner and you will be enveloped in a beautiful fresh and floral fragrance that makes you really feel that the fresh air of spring has arrived. Alternatively, blend 2 drops each of bergamot, lime and lavender essential oils smell for an enlivening, fresh spring-like aroma. Other essential oils to reawaken your senses and spring-clean your head include eucalyptus lemon, grapefruit, juniper berry, lemon, lemongrass, orange, peppermint, pine, rosemary and spearmint.
Strengthen your resolve
To help you stay focused on improving and spring-cleaning your health it can be helpful to use the properties of certain essential oils to strengthen your resolve and to help you stick to a healthy path. Essential oils derived from trees are the best for this task, since symbolically, they have deep roots that help to keep their growing trunks solid and upright. This metaphor reflects our connection to the earth; we are rooted and grounded to the planet, reaching upward for growth with determination and strength. Like branches on a tree, our minds reach out to draw forth inspiration to fuel our growth and wisdom in life.
The best essential oils to help bring you the strength and determination to achieve your ambitions are those obtained from the bark, wood, gum or roots of plants, rather than from their leaves or flowers. These include benzoin, camphor, cedarwood atlas and virginian, elemi, frankincense, ginger, myrrh, sandalwood and vetiver. Frankincense also has the unique ability to soothe worries and bring inspiration, so this is a good essential oil to include in your blends. Vetiver essential oil is considered to be a really strengthening and grounding essential oil, and brings stability and strength to those who feel worn out by adversity. It has the ability to focus the mind and elicit concentration where endurance is required – perfect for your health quest!
Always include an uplifting essential oil in your strength and determination vaporizing blends, since this will help to energise you, and also keep your spirits up during your push towards better health. For example, you could use 2 drops of cedarwood atlas, 2 drops of ginger, and 2 drops of grapefruit for a nice boost of uplifting energy. To support your determination to improve your health blend 1 drop of vetiver (it has a powerful aroma), 2 drops of frankincense, and 2 drops of bergamot essential oil for its uplifting action.
Spring into action
Some form of exercise is always required when it comes to improving your health (sorry), but it needn't be too strenuous. A good place to start your new health improvement regime is to simply take a walk every day, since it is the most natural form of exercise, plus it's easy, safe, it costs nothing. Walking reduces the risk of diabetes, heart attacks, strokes, glaucoma, hip fractures, and builds aerobic fitness. Also consider taking up yoga, pilates or swimming since these all help increase flexibility, and the movement that stimulates stretching and strengthening also improves the blood supply to the muscles and organs of the body.
A great way to help prepare muscles before taking any form of exercise or going to the gym is to apply a sports warm-up massage oil. A pre-exercise massage rub increases blood flow to the area, relaxes and prepares muscles thereby helping to avoid injury, and can act as a preventative against muscle spasms.
Clear out the junk
As well as clearing out the clutter during the spring-clean of your home at this time of year, it's also a good idea to clear out any naughty junk/comfort food habits that crept into your daily diet during the gloomy winter months. Make sure the foods you choose to eat are packed full of nourishing and energizing nutrients to help you reach your goal of better health. Try to include lots of fresh fruit since this provides a fresh source of vitamin C to boost your immune system. This not only helps keep coughs and colds at bay but also helps alleviate the effects of stress too.
Also include lots of leafy-green vegetables in your diet too, since they are high in vitamins, minerals, and fibre, while being low in calories. For example, leafy-green veggies provide vitamin A for improved immunity performance and skin condition, and vitamin D to keep bones, teeth and muscles healthy. Green veggies also contain potassium which lowers high blood pressure, and folate to help protect against heart disease and stroke. Finally, their wide range of antioxidants protects against free-radical damage which is a major contributor towards atherosclerosis.
Copyright © Quinessence Aromatherapy Ltd 2023. Written by Sue Charles