How To Do A DIY Aromatherapy Facial Massage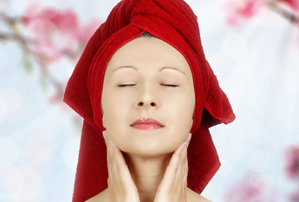 The story of your life can often be seen on your face.
From laughter lines to crows feet or skin pigmentation, it's fairly easy for the outside world to work you out from your face.
Consequently, it's important that you look after it properly.
This means eating right, taking exercise, having a proper cleansing and moisturising routine, and, when possible, enjoying an aromatherapy facial massage.
Massage is good for the face because it enhances the regeneration of skin cells. As we age, our cells don't renew as quickly, but by having a facial every 28 days you can stimulate this process and kick-start the cycle of renewal.
A gentle facial massage will improve micro-circulation of blood flow to the skin which brings a healthy, youthful glow. Correct facial massage also helps to encourage the optimum flow of lymph which assists in the elimination of toxins. The lymphatic system lacks a pump to move the flow of lymph, so massage helps this process of detoxification.
This all helps to make the skin appear more youthful, by reducing puffiness and improving the quality of your complexion. And when you look good, you feel good.
Aromatherapy DIY facial
Enjoying regular facials doesn't have to become an expense because you can do them yourself to great effect.
The first thing you need to do is choose the right essential oils for your treatment blend. Essential oils are highly versatile so the ones you choose will depend on your skin type. Here are a few suggestions for common skin types:
Whichever essential oil you choose, be sure to mix it with a suitable carrier oil before applying it to your face. Choose a nice light carrier oils such sweet almond or peach kernel for normal skin, or if your skin is really dry then jojoba, moringa or macadamia would be ideal.
Alternatively you can add your essentials oil to a professional base lotion, although lotions or creams not necessarily the best carrier medium for an aromatherapy facial massage.
Use no more than four to five drops of individual or blended essential oils every 30ml of carrier oil when applying massage oils to the face. Once you have selected the essential oils for your treatment and blended them with your carrier, it's time to begin the facial massage treatment.
Step one: Cleanse you face thoroughly, and pat your skin dry. Apply a small amount of the treatment blend on your fingers and palms. Spread it evenly over the skin avoiding the eye area. Take care not to apply too much – a little goes a long way.
Step two: According to Margo Marrone in her book 'The Organic Pharmacy', when doing a DIY massage it's important to begin at the centre of the brow and swipe outwards, moving your hands away from one another towards the ears and down to the neck.
Step three: Repeat the above motion, but start beneath the eyes with your fingers either side of your nose. Then move out to the ears and down the neck.
Step four: Place the fingers under the nose at the middle of the top lip and move them towards the ears and down the neck. Apply more of your massage blend as necessary and repeat the motion from the chin.
Step five: Place the hands at the temples and swipe down the sides of the face to the neck.
Step six: Complete the massage by gently sweeping your fingers up the neck and across the cheek, using light tapping movements.
If you want to stay looking young for longer, put a little time to one side every month and treat yourself to a reviving aromatherapy facial massage. The road to beautiful skin doesn't have to be difficult, you just need to find a routine that works best for you and then stick to it. I promise you won't regret it!
Copyright © Quinessence Aromatherapy Ltd 2022. Written by Sue Charles