Essential Oils For An Amazing Festive Feeling This Christmas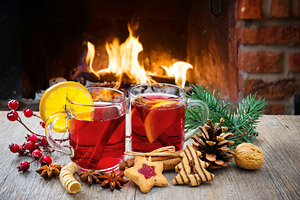 Christmas is a sensory experience and certain sounds, sights, tastes and smells remind us of the festive time of year, no matter what the month is.
However, once it gets to December we want to immerse ourselves in all things Christmassy, and fill our lives with all the stuff that evokes this wonderful, magical time of year.
Scent is a powerful recall mechanism and it's a sure fire way to make yourself feel instantly festive. After all, who hasn't smelled a turkey roasting and been catapulted back to Christmases past? Can you smell mince pies or gingerbread and think of anything other than yuletide treats around the fire?
Of course, it isn't just the smell of food that gets us in the mood for festive celebrations, because certain plants, herbs and roots also radiate an unmistakable Christmas-like fragrance too.
But if you want to fill your home with festive aromas and get everyone feeling at their Christmassy best, nothing beats the power and emotional atmosphere created by using your essential oils. Here are a few essential oils with classic festive aromas that everyone can enjoy over the yuletide.
Cinnamon leaf essential oil
Cinnamon has a spicy aroma that has a warming, comforting and enticing qualities. It is known for helping to strengthen focus and resolve, plus it gives a boost of energy when you're feeling depleted.
This is an aroma for setting the mood on an evening since it creates a great vibe that's perfect for parties or an intimate meal. Add a few drops of cinnamon leaf essential oil to a an aromatherapy diffuser or burner to fill the room with the wonderful fragrance of a spice that was once considered more valuable than gold.
Pine needle essential oil
There's nothing that says Christmas quite like the smell of a freshly cut Christmas tree. Even if you don't have one you can still enjoy the aroma with pine needle essential oil. This essential oil is reviving, refreshing, and helps to clear the mind. It's also a powerful antiseptic.
A useful little trick to give your home that real Christmas tree smell – without the real Christmas tree, is to fill a spray bottle with 50mls of water and add five to six drops of pine needle essential oil. Shake the mixture to disperse the oils and spray your artificial tree, and occasionally shake the bottle again. A word of warning – don't spray near wooden surfaces as it will leave a mark.
If you don't have a water spray, just put a few drops of oil on a tissue or cotton wool ball and place it at the base of the artificial tree. Hey presto – instant pine tree!
Ginger essential oil
This is another wonderfully warming and spicy essential oil. Just think of how great gingerbread houses smell. It's an aroma reminiscent of childhood anticipation and excitement.
Ginger essential oil is known to help with motivation, strength and determination, which can be much needed during the festive season when there are things that need doing but the lure of the sofa is overpowering. Pop a few drops in a vaporiser or burner to help get you motivated.
Frankincense essential oil
Frankincense essential oil and Christmas go together like love and marriage. Not only did one of the wise men give the precious resin as a gift to Jesus, but it has a truly classic festive aroma.
It's also a great essential oil for relaxation, which is very handy in the run-up to Christmas when preparing for everything can be absolutely, overwhelmingly, stressful. Add eight drops to a warm bath, agitate the water to disperse the oil, and slip into the tub for 20 minutes of pure relaxation heaven.
Nutmeg essential oil
Nutmeg essential oil is very stimulating and can be great for giving the whole family a shot of 'get up and go' at Christmas. It's a great aroma to spread around the house on Christmas morning to wake everyone up, especially if you don't have excited children dragging you out of bed at the crack of dawn.
Sweet orange essential oil
Oranges were traditionally placed in a Christmas stocking as a treat, so while we might expect citrus aromas to be used in the summer, sweet orange is a great festive aroma from a bygone era.
Sweet orange essential oil is also fantastic when blended with other warmer, spicy aromas, as it creates different layers to the fragrance. For example, orange and clove is a traditional Christmas fragrance used in lots of ways.
If you need revitalising during the festivities, put 4 or 5 drops of sweet orange essential oil in your diffuser or burner and you'll soon be feeling rejuvenated. You can also include a drop of cinnamon, ginger, or nutmeg oils to add a spicy twist to the zesty, fruity aroma.
Copyright © Quinessence Aromatherapy Ltd 2022. Written by Sue Charles