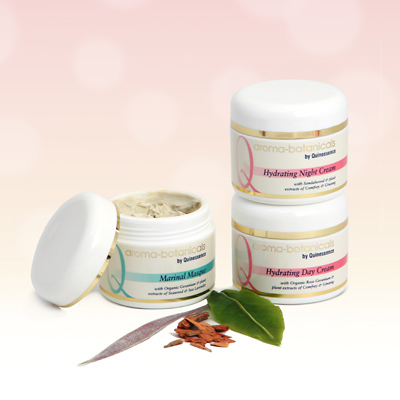 24 Hour Hydrating Pack with FREE Marinal Masque
Keep your skin properly hydrated this Easter by taking advantage of our Special Hydrating Pack specially designed to feed your thirsty skin 24/7. Now is the perfect time to switch to deep-moisturising creams that will help to keep your skin soft, smooth and feeling youthful.
And when you buy this 24 hour Hydrating Pack, comprising of our highly popular Hydrating Day Cream and Hydrating Night Cream, we will give you a 30ml jar of our Award-winning Marinal Masque absolutely FREE!
This exclusive Special Offer includes:-
Hydrating Day Cream 30ml - A light, velvety cream containing a rich harvest of botanicals plus Organic Rose Geranium and Evening Primrose oils to lock-in vital moisture and provide protection against environmental aggressors. Conditioning botanicals of Comfrey and Ginseng soothe and revive dry, thirsty skin.
Hydrating Night Cream 30ml - Replenish vital moisture levels and nourish the skin whilst you sleep with this intensive night repair treatment containing precious oils of Sandalwood, Organic Palmarosa and collagen-enhancing Centella.
FREE Marinal Masque 30ml - The stimulating and toning action produced by this gentle facial wash-off mask tightens skin tissues, leaving it feeling lifted and firmer. And best of all, it's safe enough to use on all skin types - even sensitive skin that's easily irritated.
But you must hurry because we are only giving away 75 of our Award-winning Marinal Masques, and when they are all gone the offer will close.
Place you order now and receive a FREE 30ml Marinal Masque to avoid missing out on this special offer!
Buy with confidence – 30 Day Money-back Guarantee
Not tested on animals – learn more