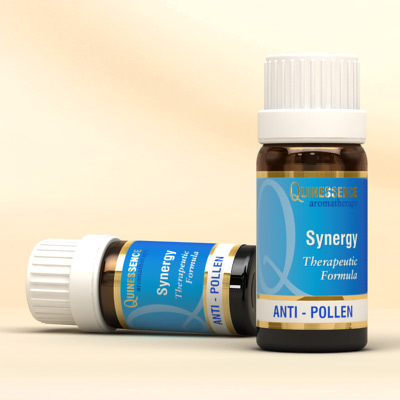 Anti-Pollen Synergy
Eucalyptus Radiata, Lemon, Chamomile Roman and Lavender. A soothing blend of essential oils to use when the pollen count is high. When it comes to soothing the ravages of pollen, nothing beats the therapeutic, soothing power of Roman Chamomile so this forms the heart of this expert blend of essential oils. Refreshing Eucalyptus and Lemon oils help keep airways clear while Lavender eases irritated and sensitive sinuses.
Inhaling a few drops of Anti-Pollen Synergy placed on a tissue will bring quick relief from the effects of pollen when you are away from home and outdoors. This synergistic blend of oils soothes the respiratory passageways, and for many people, this is the most effective way to use essential oils to combat the effects of pollen.
Diluting Anti-Pollen Synergy in a carrier oil and massaging the sides of the nose, forehead, temples and the back of the neck with a blend of oils in a carrier also brings soothing comfort for many people. A gentle massaging action around the nose really helps to soothe those streaming eyes and irritated mucous membranes. A warm relaxing bath with a few drops of Anti-Pollen Synergy is another easy way to help bring soothing relief during the pollen season.
Buy with confidence – 30 Day Money-back Guarantee
Not tested on animals – learn more