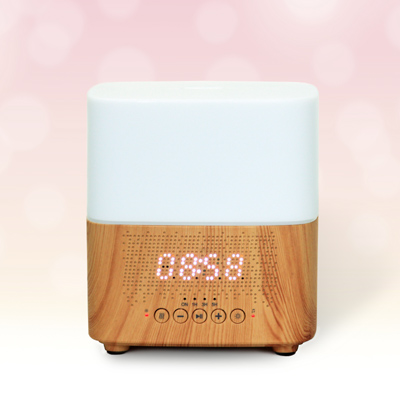 Aroma-Clock Ultrasonic Diffuser
This attractive aromatherapy diffuser features a timeless design that will look fabulous anywhere in your home! the Aroma-Clock incorporates a rotating coloured light, an alarm clock, plus a Bluetooth speaker so you can enjoy music along with all the beautiful aromas. This device has to be the ultimate aid for creating a peaceful and relaxing haven!
The feature-rich Aroma-Clock uses ultrasonic technology to quietly and efficiently diffuse your essential oils, creating a relaxing or reviving atmosphere according to your choice of essential oil or Quinessence Mood Enhancer. No heat is involved in this clever design, so the true fragrance of essential oils are preserved, unlike ceramic burners that use a candle to heat oils.
The Aroma-clock uses ultra high frequency sound waves to break down the essential oils into microscopic particles which are blended with water vapour and dispersed into the air, releasing health-enhancing negative ions into the air all around you.
Negative ions increase the flow of oxygen to the brain which combats drowsiness and increases mental alertness, and some experts believe they also protect against airborne viruses and bacteria that can cause sore throats, colds, and a whole range of similar ailments.
The large-capacity water tank means that you can run the Aroma-Clock for hours without it having to be refilled, and it costs only pennies per day to keep it running Cleaning is very easy too; just lift off the top, pour out any remaining water and simply wipe clean with a tissue or cotton bud.
For added peace of mind, the Aroma-clock incorporates an automated shut-off which is triggered when the water falls below the required level, making it safe to use even with pets or young children around.
The Aroma-Clock diffuser comes supplied with a standard UK 3 pin plug which incorporates a transformer suitable for either 110v or 240v supply. For use outside of the UK a suitable plug adapter would be required.
Buy with confidence – 30 Day Money-back Guarantee
Not tested on animals – learn more