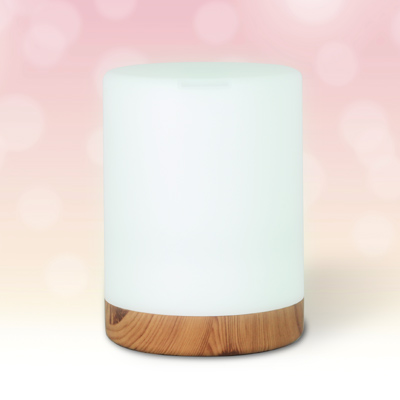 Shop Now
Enjoy a totally relaxing experience with this innovative and advanced ultrasonic aroma diffuser that incorporates a mini humidifier, ionizer, air purifier and a beautiful rotating-coloured mood light to create the perfect soothing ambience wherever you use it.
This powerful combination of leading edge technology, built-in soft mood lighting, and of course, therapeutic essential oils ensures the ultimate relaxing aromatherapy experience.
If you love to vaporize your essential oils but have concerns about the safety of naked flames when using candle-powered burners, then the Aroma-Bliss multifunctional electric diffuser is just what you need. Cutting-edge technology uses cold water to vaporize Quinessence essential oils, Mood Enhancers or Synergies in a refreshing microscopic mist that humidifies the air, whilst releasing health-enhancing negative ions into the air all around you.
Negative ions increase the flow of oxygen to the brain which combats drowsiness and increases mental alertness, and some experts believe they also protect against the damage of second-hand cigarette smoke plus airborne viruses and bacteria that can cause sore throats, colds, and a whole range of similar ailments. Read More