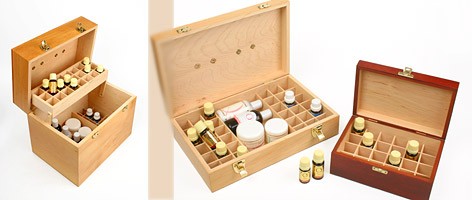 Aromatherapy Storage Boxes
Aromatherapy Storage Boxes can offer far more than just keeping your bottles neat and tidy! Aromatherapy boxes can actually increase the shelf life of your essential oils by protecting them from sunlight and the extreme changes in temperature that can cause your oils to deteriorate before they should.
Available in a natural wood finish or with a walnut-stained effect, these stylish Aromatherapy Storage Boxes are hand-made by craftsmen. Each box features wooden dividers to hold the bottles in place, and is finished with brass fittings.
Storage capacity
The internal dividers for essential oils measure 28 x 28 millimeters and will hold both 5ml and 10ml glass bottles. Our range includes box designs that incorporate the following storage capacities:
Essential Oil Box 12 x 5ml or 10ml bottles
Essential Oil Box 24 x 5ml or 10ml bottles
Essential Oil Box 48 x 5ml or 10ml bottles
Starter Kit Box 36 x 5ml or 10ml & 5 x 50ml bottles
See our range of Essential Oil Storage Boxes
One of the first questions commonly asked by newcomers to aromatherapy is, 'What's the best way to look after essential oils?' Inevitably, the next question will be, 'And how long will they keep?' This is hardly a surprising question since many aromatherapy books do not cover this important subject, and those that do often contradict each other.
Despite what you may have been told or read, there is no simple rule as to how long your oils will keep before they deteriorate and become unusable. Oils are not like milk or bread which follow a predictable and rapid path toward spoiling.
The complex and varying chemistry of natural essential oils means that the shelf life will be different for every different botanical species of oil. However, one thing that remains consistent is the fact that heat, sunlight and air all have effect on both essential oils and carriers. Once deterioration begins, it can not be stopped and is irreversible.
Having spent your hard earned cash on all those wonderful oils you need to make sure you look after them properly, or their therapeutic properties may be lost. Protecting your oils by keeping them safely in an attractive Aromatherapy Oil Storage Box is a wise investment that will soon pay for itself.
See our range of Essential Oil Storage Boxes