eBook Download Guide
Thank you for the purchase of your eBook(s) from Quinessence Aromatherapy.
If you have experienced any difficulties with your download - don't panic, we will make sure you get your eBook safely! Just follow the step-by-step instructions listed below.
The download link for your eBook(s) can be found in an email you will have received along with your Order Acknowledgment email. This normally arrives a few minutes after placing your order. Your download link email will be titled 'Your eBook(s) from Quinessence' in the Subject line, and the message contains a list of instructions together with a download hyperlink.
Download instructions
To download your eBook(s), this is what you do:
Open the email you received and click the enclosed link which will open a 'File Download' dialogue box similar to the one shown below. The appearance of this dialogue box varies according to the type of browser that you are using.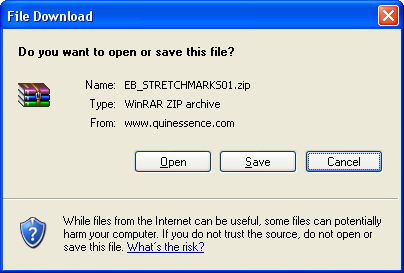 Select the 'Save' option
Choose a location on your computer and click 'Save'
Unzip your file to extract the PDF eBook(s)*
You will need to extract PDF document from your ZIP file. Most computers today already have some form of unzip utility installed and all you need to do is double-click the zip file and it will open.
Alternatively, you can right-click on the .zip file and select 'Open With' and choose the Windows unzip utility (as shown below) or select WinRAR or whatever unzip utility you have on your computer.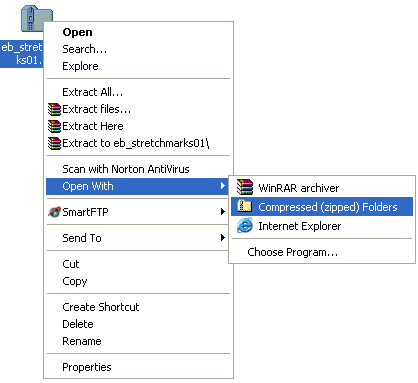 Simply copy and paste the unzipped PDF file to a location of your choice, such as 'My Documents'. You can open your eBook and read it now or later at your leisure. Be sure to make a note of the location where you saved your eBook.
If you do not have an 'unzip' application you can download a trial copy of Winzip here.
You will need Adobe Acrobat Reader to view your eBook, and this is also on virtually all computers when you buy them nowadays. However, if you don't already have it on your machine you can download your free copy here.
eMail not arrived?
Anti-spam filters, firewalls and a whole host of other things can prevent your download email getting through, and if you are using Yahoo!, Hotmail, AOL and various other free accounts it is possible they or your ISP have blocked the mail mistaking it for spam. A misspelled email address entered at the Checkout will also cause the delivery to fail.
Please check your spam folder for the download email, and be sure to add our email address to your 'Whitelist' for future communications. If you still have any problems with your eBook download, please contact us us for further help.