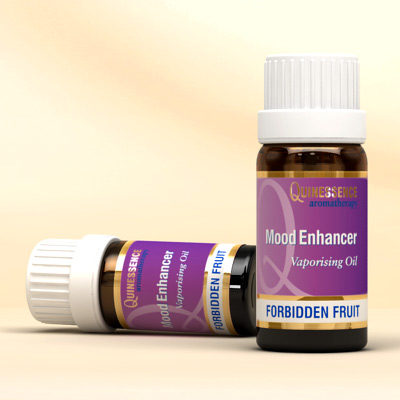 Forbidden Fruit
Uplifting and Refreshing. A delicious mélange of citrus essential oils with a hint of spice that truly uplifts and refreshes the your flagging energy levels. This uplifting combination of Orange, Lemon, Grapefruit, Mandarin and a dash of spicy Cinnamon will also freshen and purify the air whilst neutralising stale odours in minutes. Wickedly irresistible!
Now you can replace the synthetic air-fresheners used in your kitchen to mask cooking odours with the refreshing and natural aroma of essential oils that will boost your energy levels too. Forbidden Fruit Mood Enhancer can also be used around the house to combat pet pongs and neutralise other household smells too!
You can even freshen your rooms with this fabulous Mood Enhancer while you are vacuuming. Simply tear off the corner from a sheet of newspaper or piece of tissue and put 4 drops of Forbidden Fruit onto it, lay it on the floor, and introduce it to the business end of your vacuum cleaner.
While you are sucking up the dust from your carpets, your friendly vacuum cleaner will be dutifully dispersing a clean and refreshing aroma while it's freshening and purifying the air in your room!
Buy with confidence – 30 Day Money-back Guarantee
Not tested on animals – learn more