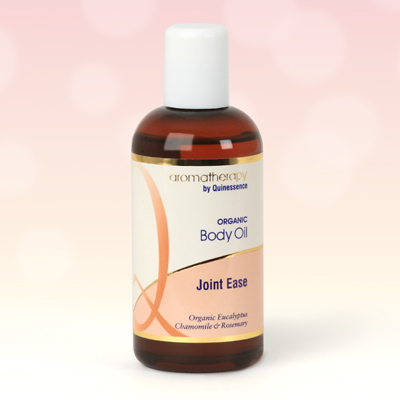 Joint Ease Body Oil
Eucalyptus, Chamomile and Rosemary. A warming and soothing blend of oils to help maintain and preserve healthy, mobile joints.
Eucalyptus oil has a strong camphor-like aroma that is sharp and highly invigorating to both body and mind. When combined with the soothing, muscle-relaxing properties of Chamomile Roman essential oil it eases aching joints that have been overworked after a strenuous day.
If you've been pushing yourself lately and feel the day's activities gaining on you, this body & massage oil is just what you need! This divine blend of organic massage oils might just become a permanent resident of your cabinet!
Characterised by an energising, evergreen, herbaceous fragrance, Rosemary essential oil forms a powerful synergy with the Eucalyptus and Chamomile oils to create a tonic for the joints.
This is perfect aromatherapy body oil blend to maintain the general wellness and health of your hard-working joints. It leaves you feeling soothed and comforted while increasing your circulation and moisturising your skin.
Buy with confidence – 30 Day Money-back Guarantee
Not tested on animals – learn more
Contains Certified Organic Essential oils of: Eucalyptus, Roman Chamomile, Juniper Berry and Rosemary in blended Sunflower, Coconut and Black Seed carrier oil.
Helianthus annuus, Cocos nucifera, Nigella sativa, Eucalyptus radiata, Anthemis nobilis, Juniperus communis, Rosmarinus officinalis.