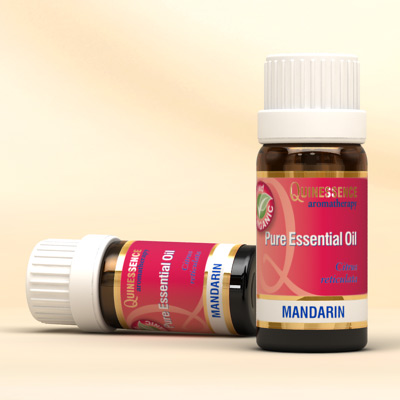 Mandarin Essential Oil - Certified Organic
Antiseptic, relaxing and uplifting. Our premium-quality Mandarin Essential Oil is grown and distilled in Italy, and has been certified organic by ECOCERT. It has a delicious aroma that brings a feeling of joy and happiness to any occasion, and is appreciated equally by young and old alike. Its cheering, uplifting and relaxing aroma is ideal for treating negative emotional conditions such as stress, irritability, restlessness and tantrums – with both grown-ups and children!
A few drops of Mandarin Essential Oil added to a carrier oil can be used in massage to treat cellulite, stretch marks and fluid retention effectively. To increase the oils effectiveness, add other essential oils that are effective with these conditions such as juniper berry and cypress, since they create an effective synergy together.
Mandarin oil has a mild antispasmodic effect which helps relieve stomach upsets when used in massage blends and applied to the abdomen, as well as relaxing muscle spasms. It also has an antiseptic action that can used to soothe spots and acne.
Buy with confidence – 30 Day Money-back Guarantee
Not tested on animals – learn more
Botanical Name:

Citrus reticulata

Country of Origin:

Italy

Extracted From:

Zest of the fruit

Extraction Method:

Expressed

Principal Constituents:

Limonene, g-Terpinene, a-Pinene, Phellandrene