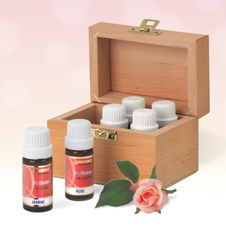 Shop Now
Since you're locked-down at home with the one you love, on Valentine's Day this year why not enjoy a sensuous, aromatic experience far more intimate than anything else you can't currently go out to do!
Our Valentine's Day collection has been sourced by experts and presented in the most cost-effective way possible, so that you can enjoy all the seductive benefits of these precious floral oils without the high cost usually associated with them.
Capturing the true fragrance and natural healing properties from the very best that nature has to offer, every one of the oils in this exclusive collection is renowned for its ability to empower mind, body and spirit - and put you in the mood for love!
And when you buy this special collection this month, we will give you a beautiful hand-made 6 space Alderwood Essential Oil Storage Box worth £14.99 to keep them in - absolutely FREE!
And there's more - when you order your Precious Oils Collection this month delivery is FREE!
This special limited issue Collection includes:-

* Jasmine 5% Dilution 5ml
* Neroli 5% Dilution 5ml
* Rose 5% Dilution 5ml
* Sandalwood 5% Dilution 5ml
* Patchouli 5ml
* Ylang Ylang 5ml
* FREE 6 Space Alderwood Storage Box
* FREE UK Delivery
Experience for yourself the fragrant delights of these Precious Essential Oils that were carefully selected from around the world, and receive a FREE hand-made Storage Box - plus FREE delivery too!
But don't delay - we only have 60 Hand-made Alderwood Storage Boxes to give away - and when they are gone the offer will close. Place your order now and claim your Free Gift Box to avoid missing out on this great offer! Read More