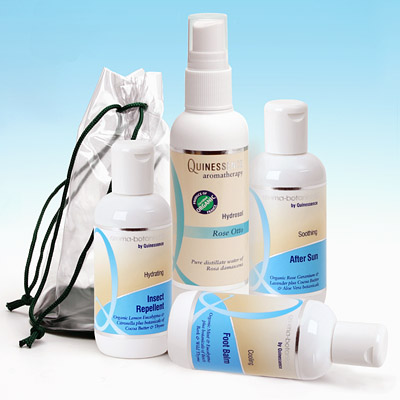 20% Off Summer Skincare Collection
To ensure you get the very best from the summer sunshine, we've put together a great selection of essential skin care items to cool, protect and moisturise your skin while you enjoy the great outdoors.
Organic Essential Oils and skin-friendly botanicals are expertly blended to create these great hypoallergenic skin care lotions. And best of all - until the end of the month we are offering 20% Discount off our normal price!
Worth over £29.00, this month you can save a massive 20% and buy our Summer Skincare Collection online for only £22.99 - saving you more money to spend during the summer!
And that's not all - when you order your Summer Skincare Collection online delivery is FREE as well!
This great Special Offer includes:-

Organic Rose Hydrosol 100ml
Revitalise your parched, thirsty skin whilst out and about with this natural, organic facial spritzer. Complete with aerosol dispenser for quick and easy application, the divine fragrance of pure rose brings a totally uplifting and enlivening experience.

After Sun Lotion 100ml
A cooling lotion containing Aloe Vera and Lavender to balance lost moisture whilst soothing the skin after exposure to the sun. Helps promote soft, comfortable skin that is less likely to peel.

Hydrating Insect Repellent Lotion 100ml
Keep those pesky bugs at bay with this all-over body moisturising lotion containing 4 essential oils to provide long lasting protection.

Cooling Foot Balm Lotion 100ml
This cooling and refreshing lotion containing Peppermint and Benzoin is ideal to soothe tired or sore feet after a hot day outdoors.

Free Draw-string Bag
A handy lightweight plastic Draw-string bag to keep all your Summer Skin Collection together.

But don't delay - stocks of this Special Offer are limited to the first 75 orders, so take advantage of this heavily discounted price and place your order today - before stocks run out!
Buy with confidence – 30 Day Money-back Guarantee
Not tested on animals – learn more