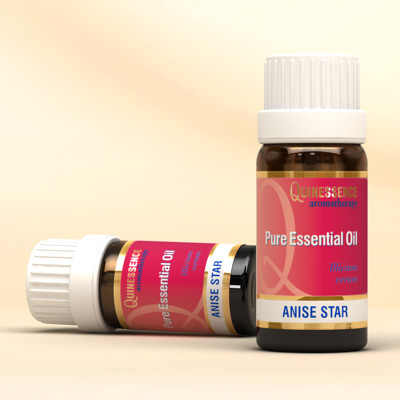 Anise Star Essential Oil
Stimulating and energising. The sweet and herbaceous smell of Anise Star essential oil is reminiscent of aniseed or liquorice, and has a refreshing and stimulating action on the digestive system and muscles when used in massage.
Star Anise oil has powerful antimicrobial properties, and when vaporised, it has a clearing action on the respiratory system. It also gives an uplifting and strengthening boost to flagging emotions.
Anise star as a herb has been used in traditional Chinese medicine for thousands of years to promote vitality and strength, to aid digestion, and also as a diuretic. Essential oil of anise star has these same qualities plus effective antibacterial and anti-fungal properties. The essential oil is obtained by steam distillation of the partly dried or freshly picked fruits.
Buy with confidence – 30 Day Money-back Guarantee
Not tested on animals – learn more
Botanical Name:

Illicium verum

Country of Origin:

China

Extracted From:

Fruits

Extraction Method:

Steam distillation

Principal Constituents:

Trans-anethole, Methyl chavicol, b-Bisabolene