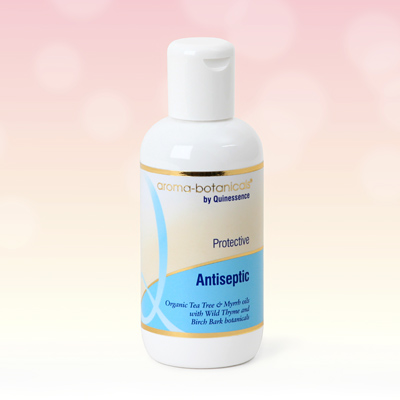 Antiseptic Lotion
Organic Tea Tree, Lavender and Myrrh. This moisturising and protective antiseptic lotion contains a unique formulation of the 6 best antibacterial essential oils used in aromatherapy to provide you with lasting protection. Gentle enough to be used on the face and young children, this versatile lotion also provides quick and easy protection to life's little cuts and scrapes, as well as sanitizing hands.
Aroma-botanicals Antiseptic Lotion also contains Birch Bark extract which has been used for centuries to help damaged skin regenerate more quickly, plus Wild Thyme extract which everyone knows is one of nature's finest antiseptics. These active botanicals combined with organic essential oils of Tea Tree, Lavender, Myrrh, Rosemary and Palmarosa combine to deliver exceptional natural protection.
As an all-purpose antiseptic lotion it can be applied to spots, boils, grazes and insect bites to keep skin clean and help protect against infection. It can also be used as an alcohol-free hand sanitizer for your hands whenever you're in public places or an environment where you are likely come into contact with bacteria.
Buy with confidence – 30 Day Money-back Guarantee
Not tested on animals – learn more
Antibiotic resistance is now growing at an alarming rate, to the point it has completely overtaken the attempts of scientists to find a solution. The rampant and irresponsible over-use of antibiotics for both humans and animals has led to an epidemic of 'superbugs' that have now become resistant to many current treatments. More worryingly, there are now no effective treatments at all for some diseases such as MRSA.
Dr. Cyril Gay, at the United States Department of Agriculture's (USDA) Agricultural Research Service says, 'The loss of antibiotics due to antimicrobial resistance is potentially one of the most important challenges the medical and animal-health communities will face in the 21st century'.
Fortunately many essential oils are known to possess significant antimicrobial activity against a wide range of micro-organisms, in fact, certain oils contain some of the most potent antimicrobial compounds known to man. It is only very recently that scientists have begun testing essential oils as possible antibacterial agents, and the results have proven what aromatherapists have been saying for decades – they work extremely well!

Utilizing the powerful antibacterial qualities of essential oils in an easy to apply lotion to protect against a range of common bacterial infections therefore makes perfect sense in today's world. Regular Quinessence customers will know that we have produced a natural antiseptic lotion since 1992, and we have continued to improve its efficacy over the years as we learned more about the antibacterial properties of certain essential oils.
The latest formula we have developed and use at the moment in our Antiseptic Lotion is the most effective to date. But as always, we continue with our research and development . . .
Aqua, Prunus Amygdalus Dulcis, Caprylic/Capric Triglyceride, Polysorbate 60, Ethylhexyl Palmitate, Cetearyl Alcohol, Glycerin, Sorbitan Stearate, Cocos Nucifera, Melaleuca Alternifolia, Aleurites Moluccana, Theobroma Cacao, Alcohol Denat, Commiphora Myrrha, Cymbopogon Martini, Lavandula Angustifolia, Carbomer, Rosmarinus Officinalis, Disodium EDTA, Camellia Sinensis, Betula Alba, Potentilla Erecta, Thymus Serpyllum, Vaccinium Myrtillus, Gluconolactone, Sodium benzoate, Calcium gluconate.