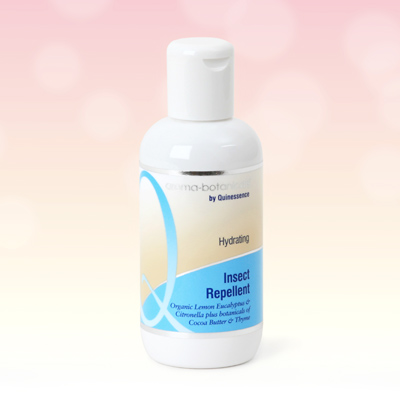 Hydrating Insect Repellent
Citronella, Lemon Eucalyptus and Cedar Atlas. We all enjoy taking time outdoors during the warmer months, but defending your skin from the drying effects of the sun and wind, plus swarms of mosquito's or biting insects can easily spoil your well-deserved recreational time.
The natural botanicals in this rich and velvety lotion include Aloe Vera, Kukui Seed Oil and Cocoa Butter to maintain optimum hydration levels, and these were carefully chosen because they also provide the antioxidants that combat free radicals and help fight the damaging effects of environmental stressors.
To help keep those pesky bugs at bay, this all-over body hydrating lotion contains a potent blend of insect-repellent essential oils to provide lasting protection. To achieve this, we have incorporated organic essential oils of Citronella, Lemon Eucalyptus, Cedar Atlas, Clove Bud and Catnip which have been shown in research to be the most effective, all-round insect repellent oils.
Buy with confidence – 30 Day Money-back Guarantee
Not tested on animals – learn more
Invaluable product

I suffer badly from insect bites during summer months, so this product is invaluable to me. It keeps the biting insects away, it doesn't contain obnoxious (effective, but obnoxious) deet and it smells pleasant. It's also very easy and convenient to apply.
Aqua, Prunus Amygdalus Dulcis, Caprylic/Capric Triglyceride, Polysorbate 60, Aloe Barbadensis, Ethylhexyl Palmitate, Cetearyl Alcohol, Glycerin, Sorbitan Stearate, Cocos Nucifera, Aleurites Moluccana, Theobroma Cacao, Alcohol Denat, Eucalyptus Citriodora, Cymbopogon nardus, Cedrus Atlantica, Syzygium aromaticum, Carbomer, Nepeta cataria, Disodium EDTA, Camellia Sinensis, Betula Alba, Potentilla Erecta, Thymus Serpyllum, Vaccinium Myrtillus, Gluconolactone, Sodium benzoate, Calcium gluconate.