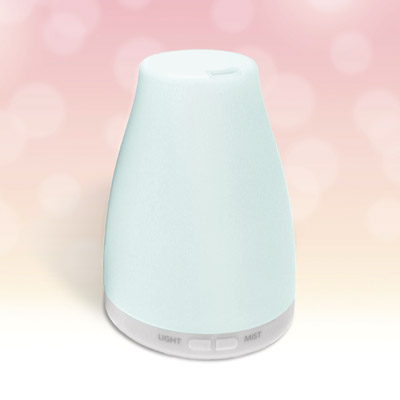 Aroma-Wave Ultrasonic Diffuser
Enjoy a totally relaxing experience with this innovative and advanced ultrasonic aroma diffuser that incorporates a mini humidifier, ionizer, air purifier and a beautiful rotating-coloured mood light to create the perfect soothing ambience wherever you use it.
Use this fantastic diffuser with our premium quality essential oils to create an all-natural room fragrance and to ensure the ultimate relaxing aromatherapy experience.
Featuring a timeless and discreet design, this ultrasonic diffuser incorporates an integrated soft-glow light in a range of colours, producing a beautiful relaxing atmosphere that harmonizes perfectly with mood-enhancing essential oils. You can even lock your favourite colour permanently on, or if you prefer you can turn the light off altogether.
To operate this multifunctional diffuser, simply fill the reservoir with water and add a few drops of your favourite essential oil, and switch it on. Try adding essential oils such as lemon or spearmint for an even healthier and refreshing environment.
The diffuser comes supplied with a standard UK 3 pin plug which incorporates a transformer suitable for either 110v or 240v supply. For use outside of the UK a suitable plug adapter would be required.
Buy with confidence – 30 Day Money-back Guarantee
Not tested on animals – learn more