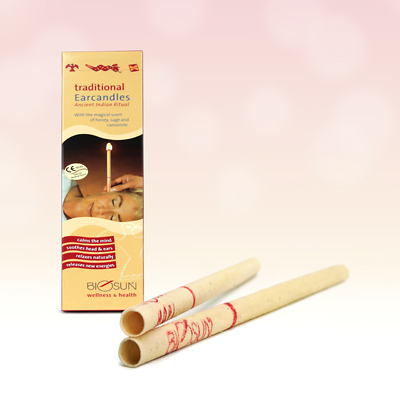 Biosun Ear Candles
Biosun Ear Candles are still produced by hand using the traditional, all-natural Hopi Indian recipe which includes pure Beeswax, Honey extract, Chamomile, Sage, St Johns Wort, pure Essential Oils and unbleached Cotton. Biosun guarantee that their ear candle products are herbicide and pesticide free.
These traditional ear candles from Biosun are great to help you unwind and relax as well as loosen wax build-ups that can impair hearing. They are helpful for the treatment of many ear, nose, throat, sinus and head conditions, such as vertigo, tinnitus, glue ear, itchy ears, and to prevent recurring ear infections.
Biosun Ear Candles also help to clear blocked sinuses, and are particularly useful for those who take long flights regularly or enjoy deep sea diving.
Buy with confidence – 30 Day Money-back Guarantee
Not tested on animals – learn more