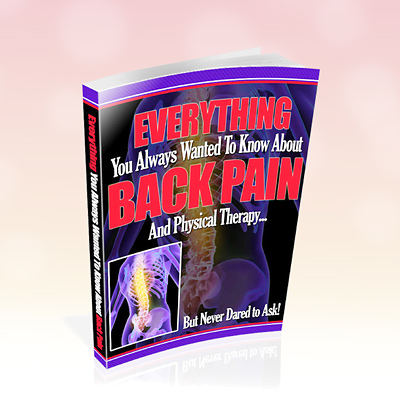 Back Pain - Everything you wanted to know eBook
Are you suffering from back pain?
Are you worried that you're not doing enough to protect your back, and would you feel better if someone would just explain back pain treatments in simple terms?
Nearly 80% of all adults will have back pain at some point or another in their lives, so you shouldn't feel alone. The problem is that most back pain books and guides only talk about what your doctor can do for you and rarely address what you can do yourself to relieve the pain rather than heading straight to the more drastic treatments. And there are many things that you can do for yourself without resorting to the usual pain-killing drugs. 'Back Pain -
Everything you wanted to know', will help you find natural relief from your suffering as well as teach you how to prevent further injuries and pain from coming back. Not only will you discover how to handle back pain, but you will also learn about the options you have both on your own - and from a doctor. As you already know, taking responsibility for your health is the best thing you can ever do for yourself. So take action today.
Note - This is a digital-download product; no physical product is shipped.
Buy with confidence – 30 Day Money-back Guarantee