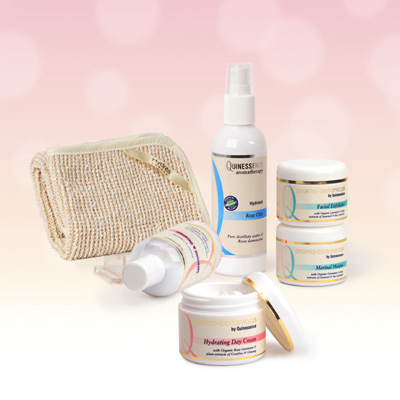 Botanical Cleansing Kit with FREE Hydrating Day Cream
You don't have to pay beauty salon prices to look good. You can pamper yourself at home and still get great results - whilst saving money - with this fantastic collection of natural botanical cleansing products. Plus we will give you a Hydrating Day Cream 30ml worth £13.25 - absolutely FREE!
From our award-winning Aroma-botanicals® range, this selection of luxury skincare products is a revolutionary step forward in natural beauty, and provides everything you need to deep-cleanse, revitalise and rejuvenate your skin.
And remember - to make absolutely certain your freshly renewed skin continues to get all the daily nourishment it deserves, we will give you a Hydrating Day Cream 30ml worth £13.25 absolutely FREE!
This comprehensive Botanical Cleansing Collection includes:-

* Rose Hydrosol 200ml - Refresh and revitalise your skin with this natural hydrosol containing exquisite Rose Otto. Used regularly, Rose Otto hydrosol helps to keep your complexion clear and fresh looking while the divine fragrance refreshes and lifts the emotions.

* Spearmint and Geranium Cleansing Lotion 100ml- A light, velvety smooth daily cleansing lotion containing organic Geranium, Spearmint, Eucalyptus and Chamomile to remove all traces of make-up and impurities, leaving your skin feeling clean and fresh.

* Facial Exfoliator 30ml - Refine and improve skin texture with this creamy scrub containing organic Lavender, Apricot oil and marine botanicals. Olive stone micro-beads impart a gentle polishing action, removing dead skin cells and lifting impurities to reveal smoother, more radiant looking skin.

* Marinal Facial Masque 30ml - Voted 'Highly Commended' in the Natural Health Beauty Awards, this wash-off mask rich in purifying botanicals and absorbent clay will deep-cleanse and refine your skin. The stimulating and toning action of this facial wash-off mask containing mineral rich Seaweed, Sea Lavender and organic Geranium tightens skin tissues, leaving it feeling lifted and firmer.
* Bamboo Cleansing Cloth - Perfect for deep cleansing and removing all traces of cleanser or soap residues.

* FREE Hydrating Day Cream 30ml - A light, velvety cream containing a rich harvest of botanicals plus Organic Rose Geranium and Evening Primrose oils to lock-in vital moisture and provide protection against environmental aggressors.

But hurry - we only have 50 jars of Hydrating Day Cream to give away, and when they are all gone the offer will end. Order now to claim your FREE jar of daily moisturiser - before stocks run out!
Buy with confidence – 30 Day Money-back Guarantee
Not tested on animals – learn more