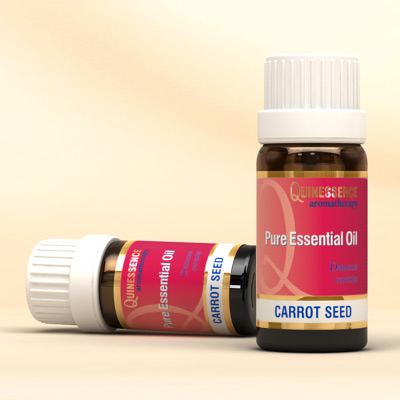 Carrot Seed Essential Oil
Cleansing, revitalizing and toning. The revitalizing and toning properties of Carrot Seed Essential Oil make it one of the very finest for improving a poor complexion and fighting the ravages of time! Tired, dehydrated, and mature skin types all benefit from its rejuvenating, toning and restoring action. Its regenerative properties improve skins elasticity, and this oil is often the first choice of aromatherapist when treating scars, age spots, and reducing wrinkles.
Carrot Seed Essential Oil encourages efficient elimination of toxins and increases the production of red blood cells, making it invaluable in massage blends for detox and cellulite treatments. It's purifying and cleansing properties also make it valuable in massage blends for easing digestive disorders.
Carrot Seed Essential Oil Uses and Benefits
The aroma of Carrot Seed Essential Oil is dry and woody, with herbaceous, earthy and mildly spicy undertones, and is often best appreciated when blended with other oils. In massage blends carrot oil helps ease general muscular and joint aches and pains.
Buy with confidence – 30 Day Money-back Guarantee
Not tested on animals – learn more
Botanical Name:

Daucus carota

Country of Origin:

Hungary

Extracted From:

Dried seeds

Extraction Method:

Steam distilled

Principal Constituents:

Carotol, Longifolene, Sabinene, b-Pinene